Utica College campus marches for 30th annual Unity Walk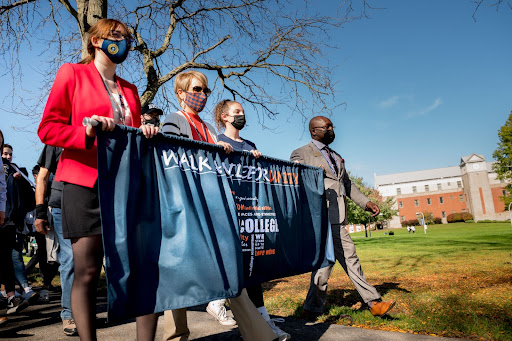 The 30th annual Unity Walk, with the theme of "Thirty Years of Activism," took place on Wednesday, Oct. 20 at noon in Duffy Plaza. Members of the Utica College community were encouraged to walk for their own cause.
The bell atop Bell Hall rang for 8 minutes and 46 seconds in memory of George Floyd, a victim of police brutality and racial violence. The campus reflected in silence for this period of time and attendees in Duffy Plaza were able to see signs honoring other victims like Floyd.
President Laura Casamento and members of the Diversity, Equity and Inclusion department spoke just before the event began, which had two groups of 600 walking at 1 p.m. and 2 p.m. respectively.
Members of the Student Government Association helped Casamento hold the Unity Walk banner to start the first slot of walkers. The path traced the campus with new interactive stations placed throughout.
Black Student Union President Isabella Gilbert said events like the Unity Walk help her feel more comfortable to freely express herself on campus without facing judgement.
"I think it's very beautiful to see everybody walk for something and to stand for something," Gilbert said. "As a student of color, I feel as though these walks are necessary to show that we are an ally to you, that we believe in you, and everything like that."
Several organizations and offices created informational stations to spread awareness on a variety of topics and provide resources as walkers passed.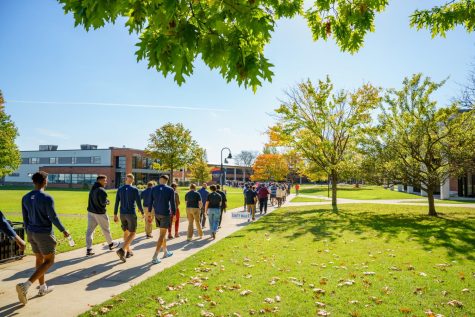 Outside Strebel, several organizations were present: Safe Trax, the Golden Z Club, the Student Living and College Engagement office, Fuerza Latina, and Utica College Emergency Medical Services. These displays offered information about Domestic Violence Awareness month, immigration and deportation, the importance of pronouns and services they offer to campus respectively.
The trek around campus included several stops along the academic quad where offices and student organizations set up presentations and discussions. The final stop of the walk was the Francis A. Wilcox Intercultural Center, where walkers signed the Utica College Stance Statement that pledges active effort towards making a diverse, equitable and inclusive campus community.
"It's coming together for a cause, a purpose, sharing one vision and one mission and hopefully one strategy about what it means to be a Pioneer," Vice President for DEI Anthony Baird said. "Where we come together: there is strength in numbers, there is strength in our diversity and strength in our differences."