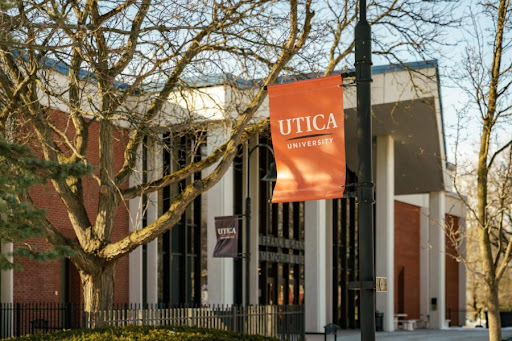 When Utica University announced the Flex Work program in October 2022, it initiated a year-long trial run phase that began on January 1, 2023. On Oct. 11, ten months into the trial, the university permanently installed the program that reduces the hours of full-time staff members from 37.5 to 32 hours. 
Christopher Specht, president of the Professional Staff Advisory Council (PSAC) who oversees the Executive Committee that collectively reviews and approves the work and proposals of the Initiatives and Nominating Committees, said though the idea was not proposed the the committee it worked with the Human Resources Department to formulate ideas and suggestions. 
"We attempted to (over-)analyze every nuance we could think of," Specht said. (From) time variances (to) when a week includes a holiday, handling open office hours during peak periods like the start and end of the semester, and flexing around student events." 
After the pandemic and with talks of a four-day workweek circulating professionally and in higher education, faculty were searching for a morale boost through a more flexible work-life balance. The Flex Work program, Specht said, was a "good-hearted" proposal by the university's leadership. 
"The intent is that there is no rigid formula for how this works," Specht said. "There is an inherent morale boost that comes along with your employer allowing you to enjoy a little more time in the morning, take off at the end of the day to run errands, or work a little longer for four days to enjoy the fifth day off every week." 
The various offices and departments were encouraged to sort out a flexible arrangement that worked best for their collective teams, Specht said. With that came positives such as offices reevaluating how to maintain coverages, shuffle office hours, cross-training staff and promoting inter-office collaboration. However, at times there were difficulties with groups finding coverage due to limited personnel, according to Vice President of Human Resources and Professional Development Lisa Green. 
"One of the biggest things that we heard is that department heads… have reported 'I'm having a hard time availing myself of Flex (Work),' '' Green said. 
In keeping with the ordinance of making sure that the needs of students and the community are still met and ensuring staff continue to work at a 40-hour work week level, the concept of "self-managed teams" was a crucial piece in the alternative work schedule that the program provided," Green said.
"Rather than saying, every department in this institution (and) every single person here work 8-5 and nothing in between — no difference no variance what we're saying by doing this is: we trust you — department head and your team to look at the landscape of all the work you have to complete and within your team come up with a way to make the schedule work," she said.  
To make the program an easier transition Green said the time system staff members use to track their work hours with a new category titled "flex hours" was added so individuals could log their times and see who's flexing their hours and who's not. In addition to that, last spring Green met with each department head to gain insight into what was working and what wasn't. 
"I think people have appreciated, 'I'm an adult, my team is full of adults, we have a department head — allows us to sit down and figure out how to make this work,' '' Green said. "So that students and the people we serve — each other even don't suffer." 
According to Specht, the intent behind the Flex Work program was to permanently install it from its initial inception and that adjustments stemmed from a proactive approach to "to do the right thing at the right time" rather than by data.
"Fostering a workplace where employee mental health and well-being are core values only leads to a more positive and proactive work environment for everyone," he said. "The benefits of a positive workforce impact everything from daily productivity to employee retention and engagement, to self-motivation and personal growth." 
Though minimal feedback from staff and students was provided to human resources directly Green said another review will take place in the winter along with initial follow-ups if needed. But productivity-wise, Green said the creativity amongst departments has increased. 
"People like this and they don't want it to go away," Green said. "So you'll do whatever it takes to maintain your level of service." 
According to Specht, continuous thought was put into the process despite transitions in membership taking place within PSAC. However, though the program is official the committee will continue to work with human resources to address what efficiencies may exist in the future along with encouraging department feedback from directors to guide strategies and optimizations to ensure constructive criticism is met with constructive solutions.
"This sense of pride in one's own work, and flexibility to pitch in will only increase the notion that Utica University students, faculty and staff truly are a family," Specht said. "The cascading effects of that level of pride are as immeasurable as the value of time. The sense of belonging, willingness to do your best and be your best, will allow our students to have the best experience possible and bring this community closer together."
CORRECTION: The original version story has been updated to correct an error. The Flex Work program applies to full-time staff members, not faculty members.