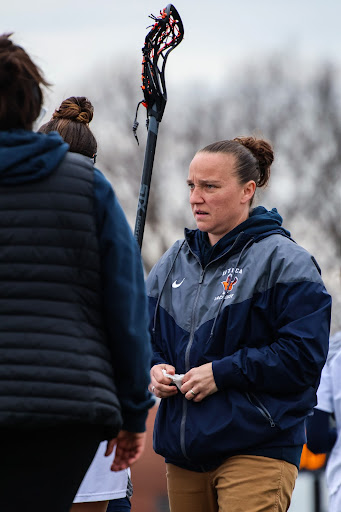 Utica women's lacrosse head coach Kristin St. Hilaire will be inducted into the Upstate Lacrosse Foundation Hall of Fame on Oct. 22. She will be joined by six other local lacrosse players at the Induction Ceremony dinner at the Links in East Syracuse. 
St. Hilaire said she is truly humbled and honored to be inducted as lacrosse has been a passion of hers for as long as she can remember and has changed the trajectory of her life, molding her into the person she is today. 
"To see my name alongside some of the legends of this sport is incredibly special," St. Hilaire said. "This recognition also allows me the opportunity to reflect on all of those who have supported me throughout my career. Without the hard work, dedication, sacrifices, and unwavering support of my teammates. coaches and family, none of this would have been possible."
St. Hilaire in her 16th season as head coach has a record of 129-91 making her the winningest coach in program history and currently sits on a streak of eleven straight seasons with a winning record. 
Before coaching, St. Hilaire was a star player at the University of Massachusetts where she played from 2002-2005. During that span, she went on to set school records for forced turnovers, ground balls, and draw controls. It was during this time that St. Hilaire had a life-changing moment in her lacrosse career.
Her favorite career moment came in 2003 when she was playing at UMass. 
"We were in the Atlantic 10 Semi-final game against Richmond, down seven goals with eight minutes to go. We came back and tied the game with 28 seconds left, sending us into overtime. In the OT period, we scored with 48 seconds remaining, sending us to the championship game and capping off an improbable comeback," she said. "We stuck together and never doubted our abilities, it was a true team effort. I love telling my current players that story whenever they think any hurdle is too high to overcome, on or off the lacrosse field.  I still use that comeback as motivation in my own life when things get tough."
In light of her accomplishments, some players that described her the best were senior midfielder Katie Crofoot and junior midfielder/attacker Grace Stuhlman.
"Coach St. Hilaire's induction to the Upstate Lacrosse Hall of Fame is very well deserved.  Not only is she a great coach on the field but also off the field," Crofoot said. "She pushes us to be better and dig deeper in all aspects of the game and life. She is willing to do whatever she can to help turn us into the player she knows we can be."
Stuhlman said she feels lucky to have been coached by such an accomplished player. 
"She has helped me improve my lacrosse IQ, and make smarter decisions on the field," Stuhlman said. "She makes the program feel like a family and I've met some of my best friends playing lacrosse here at Utica thanks to the atmosphere she's created."