Turn up the heat: Wisk for breakfast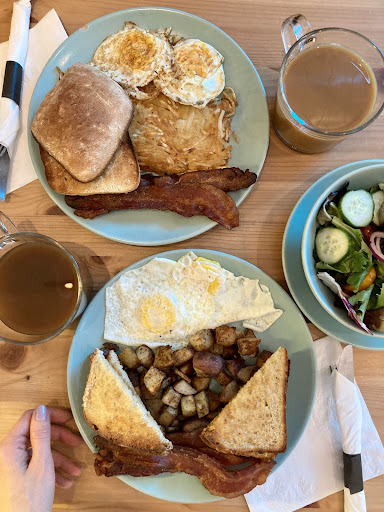 The weather has been frosty lately, and the year long. As the sun sets sooner now and we pull out our cozy clothes and sip on warm drinks, sitting in dimly lit rooms with sparkling lights, looking for a time to be comfortable with people we enjoy. And mornings are slower as breakfast turns to brunch.
Inspired by a classmate ordering indulgent Bananas Foster French Toast for delivery one morning, I decided to go to Wisk Baking Company on Genesee Street.The location is tucked away in a cute nook in the heart of Downtown Utica, perfect for a lovely walk on a brisk day. Wisk Baking Company bakes elaborate pastries and cakes but also has an enticing breakfast and lunch offering. 
We both ordered the Classic American for a savory brunch and two mugs of coffee to keep to a classic theme. The Classic American comes with two eggs, a choice of bacon or sausage, home fries or hash browns, and a choice of toast. The side salad isn't on their breakfast menu but they were kind to accommodate my cravings. 
Nowhere else in Utica will you find home fries where each diced cube of potato is perfectly tender and satiating. The hash brown was also served hot and crispy. The bacon might have been a bit too crispy, but the potatoes made up for it. Their options of toast were a bit more interesting than the regular offerings of regular hearty, homey diners. We ordered ciabatta with one dish, layering the toast with eggs, bacon, and a bit of the greens with light dressing. 
I would suggest getting coffee either at Character Coffee across the street or Utica Coffee down the road, as the watery taste of their drip coffee did not offer the boldness in flavor I was looking for. Here's an idea: ordering coffee elsewhere and going on a walk to Wisk might feel like a small, cozy winter adventure with breakfast or lunch as a reward.
I appreciate the variety that their breakfast menu offers: it includes a brunch board for two, breakfast burritos, waffles, avocado toast, blueberry pancakes and omelets, and everything is served beautifully.
The lunch menu includes specialty sandwiches, salads, wraps, and soups. Their tomato basil is one of the best I've had. 
After being tempted by chunky cookies and flaky pastries in the pastry display, I did not walk out of the cafe without a gorgeous chocolate croissant for the journey home.