Jim Spartano wanted to meet the final four head coaching candidates away from campus to get a personal feel. It was more intimate with them that way — so he met Blaise Faggiano in Syracuse. 
In 2007, the football program was in turmoil. Then-head coach Mike Kemp left with three games remaining in the season. Two years prior he led the Pioneers to its first winning season with a 6-4 record. The split paved the way for defensive coordinator Kirk Jellerson to take over the team. Jellerson had worked under Kemp since 2004 finishing the season 1-2 as interim head coach. 
"We had 10 to 11 assistants that wanted to stay and finish the year," said Spartano, Utica's former athletic director who's in the university's Hall of Fame. "We asked them if they wanted to leave, we would honor their contracts — no hard feelings but they wanted to say."
An abysmal 3-7 record triggered a search for a new head coach. Faggiano, a 1991 national champion with the Ithaca Bombers, had his sights set on a career in coaching. By 1993 he'd learned the profession, by understanding how to recruit and how to separate himself from the players as an assistant coach at the University of Albany. In a pool of over 125 applicants — he stood out to Spartano. 
"I liked him right away," Spartano said. "He got a big star in my mind when we brought all four to campus. I was very impressed with him but I didn't tell a soul."
Under Kemp, the system was outdated, offenses were changing, and he wasn't the best X's and O's guy, said former wide receiver now head football coach at SUNY Buffalo State Lazarus Morgan, and players had an issue with his leadership style. 
"Whenever you're building a program from scratch it takes a lot of hard work and you're dealing with a lot of issues," Morgan said. "He got to the point where he couldn't take the program any further." 
After Kemp left, two exciting games followed including a 72-70 quadruple overtime loss to Hartwick College on Nov. 10, 2007, which saw a combined 12 total touchdowns in what was at the time the highest-scoring football game in NCAA history with 142 points. The players at the end of the season wanted Jellerson as their official head coach, Morgan said. He was a perfect fit for the current players and could bring immediate success. 
"He was the guy a lot of us gravitated to," Morgan said. "Especially when coach Kemp was originally relieved of his duty."
Faggiano on the other hand wasn't thinking about being a head coach. After a one-year stint at UAlbany, he returned to his alma mater in 1995 as defensive coordinator. He left Ithaca a year later and became a defensive line coach at St. John Fisher University, a conference rival, who the Pioneers will face this season on Nov. 11, then went on to become their defensive coordinator in 1999. 
In eight years, Faggiano transformed the Cardinals' defense, according to head coach Paul Vosburgh. Though he only saw five wins in his first three seasons he was a "worker," Vosburgh said. As the defensive coordinator, Faggiano had the chance to look more at other positions and increase his knowledge, inevitably growing more and more as a coach, but had a certain relatability to the players on the defense line having played the position himself.
"They understood that he'd played the game," Vosburgh said. "…But most of all I think they responded to him because he was all about the players first and foremost."
From 1999-2007, Vosburgh, with Faggiano's help, led the Cardinals to three NCAA tournament appearances. When Faggiano applied for the head coaching position at Utica, Spartano called Fisher's Athletic Director Bob Ward, and asked for an honest opinion. 
"He's tough," Ward said of Faggiano to Spartano on the phone. "He demands a lot. He'll be in your office once a week wanting things." 
During the interview process Fagginao had a burning competitiveness, Spartano said. When he got hired in 2008 at age 37, he was the long-term solution, Morgan said. He changed the narrative and connected the football players to the community and the program to the campus. 
"When I was a player, we were the football team and that's all we really were," Morgan said. "We kind of alienated ourselves from the rest of the campus."
Described by Spartano as an "up-and-coming program," Faggiano saw the team's potential. With much of its talent on defense, he called it a "diamond in the ruff," filled with tough blue-collar guys who just wanted to win. 
"I can remember our first spring practice — no pads and we're doing drills and they just wanted to kill each other," Faggiano said. "To impress me."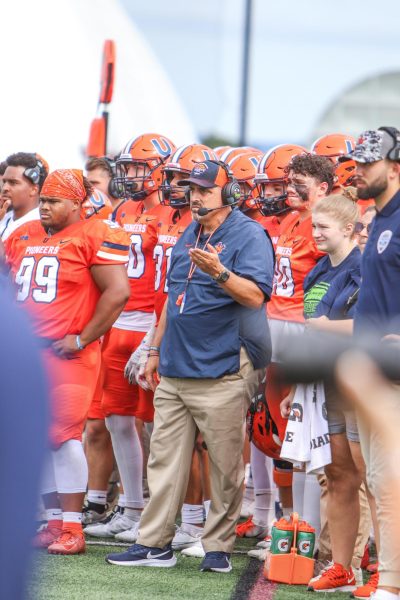 Morgan said Faggiano was the driving force that made the program a desirable place for new recruits, and Spartano said good players recognized Faggiano's skills as a speaker, a caring person and someone who would look out for them. 
In the pre-Faggiano era, playing against Utica "was a game," Vosburgh said but not as much as it is now. In 2022 the Pioneers finished 10-2, its best overall record and appeared in the NCAA tournament for the first time in history and made it to the second round. 
"We were kinda tired of being close," Faggiano said. "Like, 'Alright everyone knows were good but when's Utica really gonna do something on the big scale.' "
Now in his14th year as head coach off back-to-back winning seasons, Faggiano's philosophy remains the same: faith, family, academics, football and the lessons learned from him as a player are still engrained, Morgan said. 
"I would want my son and daughter to play for Blaise," Spartano said. "I trust him."
"If you wanna be in a foxhole and you wanna pick someone with you, pick Blaise. He's not gonna let you down. You want someone to cover your back and you cover his back. Blaise is your guy."