Stress, fatigue and burnout: When academic and pandemic worlds collide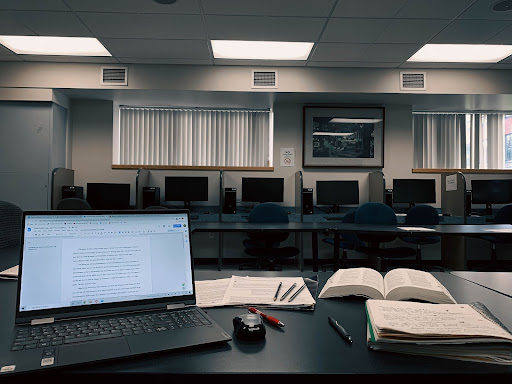 In a year filled with uncertainty about COVID-19 and other social issues, Utica College is now past the midway point in the fall 2021 semester and many students are bound to experience fatigue and stress due to academic, work, athletic and social commitments. 
According to Clinical Counselor John Ossowski, academic stress can translate into deep insecurities about a student's abilities. Pre-pandemic, students were already under a lot of pressure to achieve in order to feel like they were making the most of the time, effort and money they put towards college.
 "We are dealing with a situation where it is more about the outcome of grades, rather than the growth we experience from learning," Ossowski said. "Honestly, I don't know if students are enjoying learning as much as they would if the pressure to perform, or the fear of failure, was not so high. Now, add into this all the uncertainty the pandemic has caused – especially economic uncertainties – and you have a situation where students might literally question the value of their current investments in higher education. These are very stressful times for students." 
The process of returning to life pre-pandemic is challenging and things are not quite how they were previously. 
"I think we are moving towards how things were pre-pandemic, but we are not there yet," Ossowski said. "We're only just getting used to socializing and going back to classes in-person. It seems like there is a slow progression back to the in-person social connections we had prior to COVID." 
Utica College's Counseling Center provides students with the resources they need to have conversations and get help with any challenges they may face while at college. According to the Director of New Health and Wellness T.J. Lane, Utica College has seen a 30% increase in sessions from pre-COVID-19 numbers at this point in the semester. 
"I see counseling services as important, not only for coping with challenges, but growing and thriving as well," Ossowski said. "It is important to remember that therapy is not about fixing you. I believe everyone has inside themselves a solution for what they are seeking, but sometimes we all need a little help in discovering it. That's what we do in the counseling center."
There have been many instances where students have said they are either stressed, fatigued or burnt-out during this academic semester. 
"With the return to the classroom, some students have struggled with time management and finding their routine," Director of Student Success Bethany Samuels said. "I think this is because online learning provides more flexibility with setting your own daily schedules. Students now have more set times for courses, practices, requirements, and appointments." 
Students encounter a lot of challenges in college, but with everything that has happened this past year and a half, it seems there is more added pressure.
"This semester has seemed not only more stressful, but also more tiring than years past," senior psychology major and criminal justice minor Gabrielle DeRocher said. "I think it has to do with being back to actually having to go to class with our in-person classes and being fully engaged the whole time. Also, if there is an online class, they're only eight weeks long, so the work is piled up twice as much for each week."
College itself can be a challenging experience, but mental health professionals have to look at this past year and a half and understand how those challenges have deepened, Ossowski said. 
 "It feels like we are all living with an ambient hum of anxiety that adds weight to everything: our relationships, families, work…now add into this the academic stress that comes with striving towards success in college," Ossowski said. "Consider also that some students have had to adapt to learning in ways they are not used to, like classes on Zoom."
According to Assistant Director for Student Success Andrea Casuras, one of the biggest factors that contribute to stress and burnout in academics is poor time management. 
"Once a student starts to procrastinate or push off assignments, the work starts to pile up until it starts to feel overwhelming," Casuras said. "Outside of academics, there are a lot of unexpected life occurrences that happen. Things like sudden financial stress, illness, or family issues can add to the pressures already felt from academics and can lead to a student shutting down. If a student is feeling overwhelmed or stressed, we strongly suggest they reach out to their success coach or the Counseling Center we have on campus to talk about it." 
For students, there are different ways to minimize stress and fatigue during the academic semester. 
"Some advice to deal with this academic year is to take advantage of professors' office hours and study with friends," senior psychology-child life major Siobhan Brennan said. "Start early and keep a planner of everything you need to do."