Turn Up the Heat: City Cafe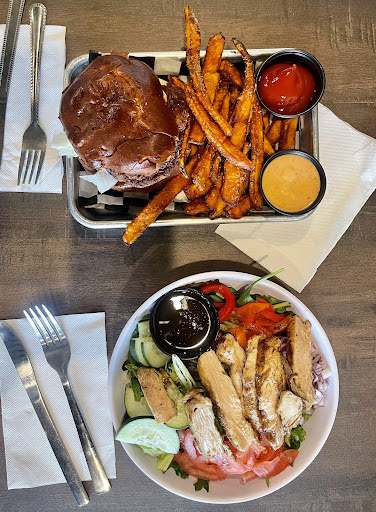 I'm having a dairy-free moment this month and heard about the City Cafe, just a few minutes drive from campus, and my lunch destination was decided. City Cafe is a gluten-free, dairy-free, and peanut-free restaurant and bakery offering traditional lunch dishes for a larger customer base.
The friendliness of the two employees I interacted with added to the warmth of the coastal-rustic feeling in the cafe. They also had a soup of the week and hummus of the week, adding to the homey feel.
I ordered a Mediterranean bowl with grilled chicken, house-made hummus, roasted red peppers, and tomato, cucumber, and onion served on mixed greens and brown rice. The server recommended adding a side of oil and vinegar, which added a sauciness to the dish.
The vegetables were fresh and crisp and the chicken was well seasoned. Their hummus of the week, the lemon dill, was the most interesting part of the meal as it was a take on hummus I haven't had before. I liked the fresh grassiness of the dill and that it was chunky and textured.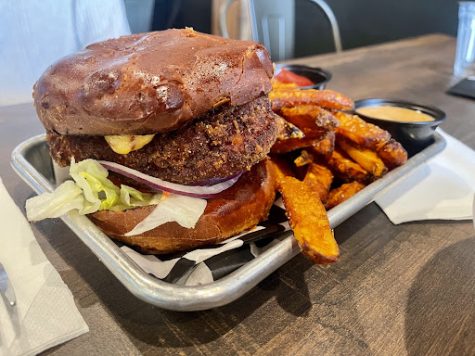 My friend ordered their most popular dish on the menu, the crispy chicken sandwich, on a gluten-free brioche roll with a side of sweet potato fries. Their hand-breaded and fried chicken was everything it needed to be-crispy on the outside and tender on the inside.
This chicken sandwich was nothing like the half-hearted, flopped-together chicken sandwich I ordered at a local brewery last week; a sad story sporting one and ⅓ of a pickle and almost six short slices of cabbage as the "coleslaw." I won't go on.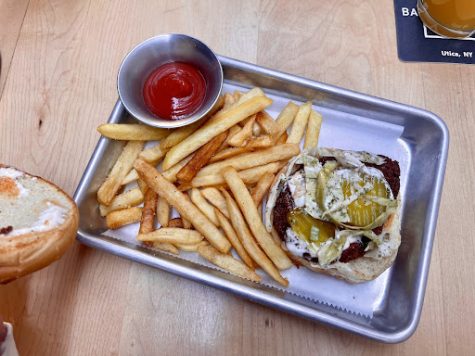 This chicken sandwich was everything it needed to be and it was no wonder it's their most popular menu item. It was lacking in sauciness but that was nothing a side of spicy mayo couldn't fix.
Both of our meals were very fresh and generous. Neither of us is gluten-free so we can't fairly rate the bun, but it was quite spongy and fluffy and tasted nice to me. My friend avoided eating the bun.
I'll have to be back to try their vegan mac and cheese and hall-of-fame fries, topped with crispy buffalo chicken, bacon, tomato, onion, and avocado crema. And then come back for a Belgian waffle tower during a Saturday brunch.
The amount of gluten-free baked goods they offer is impressive, filling a pastry case that was almost sold out once we got there. Cinnamon rolls are baked fresh every day and two refrigerators are stocked with trays of half moon cookies, large snickerdoodle and peanut butter cookies, made with sesame, frozen waffles to toast at home and more.
City Cafe's specials can be found on their Facebook or Instagram page.