UCEMS to receive incentive next semester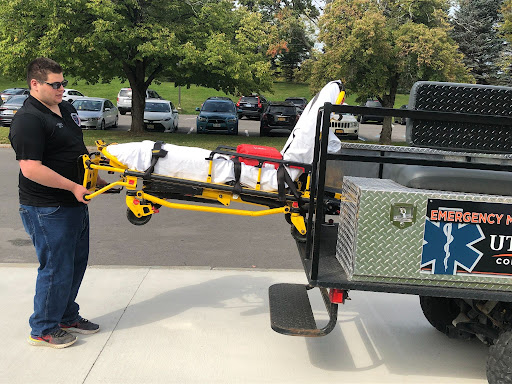 Starting in Spring 2022, the Utica College Emergency Medical Service will become an official office and offer incentives for new members.
The new incentives, which have been in the works for some time, will give 15 EMTs free room on campus or an off-campus stipend that will be decided in spring. UCEMS will officially become the Emergency Medical Service office. EMTs will receive priority registration, parking spots in front of dorms and housing if three or more EMTs live in a cluster.
Shad Crowe, co-advisor of EMS and Vice President of Emergency Management, Colby Kusinitz, captain of EMS, and Corey Evans, chief of EMS,  sat down with President Laura Casamento to discuss the incentives the college would offer the organization. During the discussion, Casamento gave UCEMS an offer that exceeded their expectations.
"We went in there with a completely different plan and she kind of stopped us and blew us out of the water with her plan," Evans said. "The plan was absolutely amazing and we really had nothing to argue about."
With the incentives set to become official next semester, the EMS will become a part of the Office of Emergency Management.
"Before, we were just college EMS that had an office," Kusinitz said. "Now we're the Office of Emergency Medical Service. That gives us more legitimacy when we go to vendors to talk about things like buying medical equipment or supplies."
The UCEMS started in the fall of 2015 and has provided essential services such as medical standbys at large campus events and response to medical emergencies on campus, according to the Utica College website.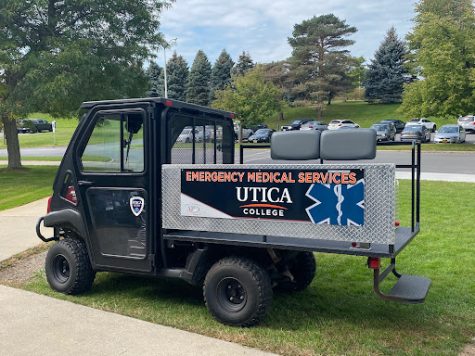 From a small room in Moses G. Hubbard Hall, the EMS relocated to the former SLCE office in North Hall. The office space contains equipment and two rooms for overnight EMTs to rest in. 
Out of the nine total EMTs, five of them are currently active on campus and four of the active members live on campus.
Evans, who is a senior nursing student and member of the football team, said one reason why the incentive is important is because it can help things get back to what they used to be prior to the pandemic.
"The goal is to get back to having at least one EMT in each residence hall," Evans said.
An important thing to note about the incentives being offered by Utica College is that these types of rewards aren't just given out, according to Crowe. They are quite rare.
"There are very few [colleges] in New York State that offer these incentives," Crowe said. "We want to be on the forefront of this. We want to be leaders like we have been; Utica College has traditionally taken the role of leadership when it comes to developing programs."
This agency maintains two out of the three EMS foundation certifications: EMS Ready Campus and Heartsafe Campus. The first certification indicates that the UCEMS will work with local agencies and are equipped to handle emergency situations on campus. A Heartsafe Campus has over one-third of the student population CPR certified.
The third EMS foundation certification is an EMS Excellence Award. Earning this recognition, which is currently in progress, indicates a strong relationship with administration.
When UCEMS earns the third certification, they will be one of the few colleges in the country to have all three, Kusinitz said.
Along with providing 24/7 medical assistance on campus, UCEMS is working towards collaborations with other campus offices and agencies, such as the Inter-Greek Council.
"We're working on a historic collaboration between EMS and IGC where we're going to collaborate and we're gonna certify all of their members of the IGC in American Heart Association CPR for free, and [IGC] will donate the mannequins to do it," Kusinitz said.
James Monahan, Director of Traditional Nursing Program and Manager of UCEMS, is hoping that the incentives will increase recruitment and have more EMTs at campus events.
The next big event for UCEMS is the local Utica Boilermaker Race on Sunday, Oct. 10. As participants pass by Burrstone Road in front of the college, three EMS crews will be on medical standby. If the Heart Run and Walk is held on campus this year, there will be UCEMS members there as well, Monahan said.
When the incentives become available to the members of UCEMS, it will allow them to do even more than what they already do on campus. Kusinitz said the relationship that UCEMS has with not only the president, but the college as well allows them to be ahead of the game. 
"[The incentives] also shows that the school really supports us," Kusinitz said. "All of these things coming into fruition in the past month are leaps and bounds from what we've accomplished in the past two to three years. It shows our continued working relationship with the office of the president and the school."
If students are interested in becoming a member of UCEMS, they can contact EMS Chief Corey Evans, advisor Jim Monahan or co-advisor Shad Crowe.