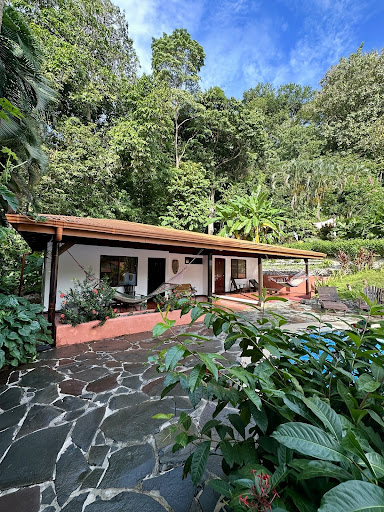 Exploring the natural wonders of bioluminescence that occur year-round in Paquera Bay and Turtle Island was on the top of my bucket list since I arrived, now all I had to do was book a hotel and figure out transportation which seemed straightforward. 
Since this was my first time planning a trip by myself, I soon realized the complexities that come with getting around Costa Rica's remote areas and winding roads.
I booked a hostel in a small beach town called Montezuma that had a laid-back atmosphere and was filled with open-minded locals who live a bohemian lifestyle. I found this town very intriguing because it was a hidden gem from tourists which allowed me to be immersed in the individuality of locals.
The transportation getting there was trouble-free but there were three different stops we had to take which made our time prolonged. We started our journey with a bus from San Jose to Puntarenas. From there we had to take a ferry to Paquera, finishing with another bus to Montezuma. After our day-long travels, we were exhausted.
While walking around town the first night, we realized that the type of currency accepted varied greatly. The tours only took dollars while the public bus and restaurants accepted colones. We did not come prepared with the correct cash, so finding an atm was necessary for getting back home.
I left that worry behind for the day and took a tour to Tortuga Island. No words could describe the beauty of the turquoise water against the gray, defined rock structures. In the distance, the coastline could be seen where the wild ocean met the quiet rainforest. Our tour guide was lively and filled the air with the pura vida spirit. Once on the island, an abundance of wild pigs and peacocks were seen wandering the white sand beaches.
Once we arrived back at our hotel, another obstacle came our way. We had a bioluminescent tour booked that evening, but it was 40 minutes from our hostel. We assumed that there would be transportation available but that was not the case. It was too late to be reimbursed for our tour, so we were frantically searching for a ride. Taxis and Ubers were non-existent here. We decided to talk to the hostel owner about our problem.
The way he expressed empathy and concern was truly heart-warming. He guided us through our worries and kindly offered us a ride to and from our tour. His genuine intentions made us feel comfortable in an unknown situation. 
We conquered all our difficulties and made it to the grand finale of our trip. We hopped in kayaks and were guided to one of the darkest parts of the bay. When our paddles touched the water, the surface looked like it was filled with thousands of sparkling stars. It started to rain which would seem like a bad thing but as every drop touched the water, a bright teal color came to light. It was such a magical experience. We couldn't help but laugh as the rain turned into a torrential downpour.
Our trip was filled with complete chaos but with that came beauty as well. Not everything goes perfectly as planned and that is okay. Some memories can only be experienced through the obstacles that come along. We now have an unforgettable story that we can look back at and laugh at.
Breannan O'Hara is a junior majoring in animal behavior with a minor concentration in journalism. She is studying in Costa Rica for the Fall 2023 semester.