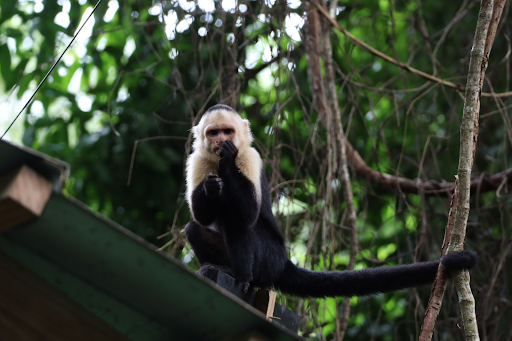 One of the main reasons I chose to study abroad in Costa Rica is because of its remarkable biodiversity. Although this country covers very little landmass, it is home to a vast range of animal species each with its uniqueness. From vibrant toucans, agile jaguars, and mischievous monkeys, to prehistoric-like reptiles, it is an animal-behavior student's dream. 
Since conservation and preservation efforts have been made a national priority, the diverse ecosystems that hold these species can thrive, making it one of the countries with the highest biodiversity in the world. 
Last weekend, I visited Manuel Antonio National Park, one of Costa Rica's protected areas in which the land's natural beauty is preserved and kept safe from exploitation. It is known to be a hotspot for wildlife viewing because it holds a wide variety of habitats such as dense tropical rainforest, mangroves and remote marine environments. A wide array of species, many listed as endangered, coexist and flourish together in this beautiful park.
Being accustomed to seeing squirrels and crows back home, the thought of seeing these species in their natural habitat was truly a sight. The animals here bring a burst of color, captivating noises and unique behaviors that are exotic compared to the ones at home. It is bizarre to think that these animals are a part of locals' everyday life. 
 I was able to observe animals in all layers of the rainforest. There were sloths, iguanas, and macaws in the canopy. The forest floor was occupied by boa constrictors, agouti, land crabs and coati. Moving swiftly in the understory were anoles, geckoes and hummingbirds. The animals that intrigued me the most were the different species of monkeys. 
At the beginning of my hike, I began to hear high-pitched chirps echoing throughout the forest. At first, I put no thought towards it thinking it was a bird singing. As I was looking through the treetops I caught a glimpse of a group of monkeys leaping freely around in the trees. 
After observing for a few minutes, I couldn't get a clear view but when I turned around, I saw a squirrel monkey on an open branch in front of me. It was adorable with a small head in comparison to the body and a light brown coat. It walked across the trees majestically, using its four feet and long tail for balance. I finally saw my first monkey in the wild. 
Making my way farther in I saw a group of commonly known capuchin monkeys jumping around playfully. They had a silky white and black coat and human-like facial features. I always saw them in movies but here I was within arms reach of these intelligent animals.
It was a show to watch this group behave mischievously. They swung from branch to branch trying to snag food from people's hands and brawl with each other, causing a ruckus in the quiet forest. It was fascinating to see their curiosity and comfort in human presence. 
I was in awe of each animal's beauty and uniqueness. Being among them gave me a new insight into my future career field and the animal behavior major as a whole. 
Breannan O'Hara is a junior majoring in animal behavior with a minor concentration in journalism. She is studying in Costa Rica for the Fall 2023 semester.