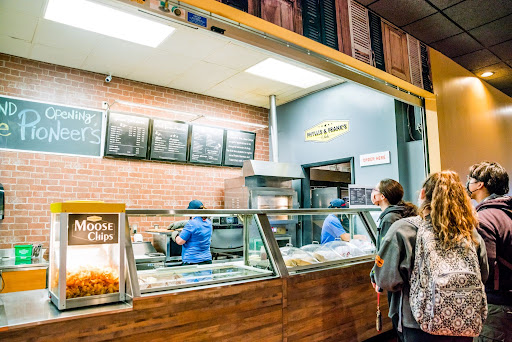 Phyllis and Frank's Subs which once operated next to Pioneer Cafe has been closed for some time. Pioneer Cafe is one of the main places to get food on campus after the dining hall closes, so it's one less option students have if they try to buy food on campus after hours. 
The sub shop space has served several different food varieties through the years, such as Subway and Mexican option Tres Habaneros. Tres Habaneros turned into Phyllis and Frank's Subs due to low sales and while the sub shop was popular at first, those sales also dwindled and caused its closure.  
Dining services General Manager Damian Boehlert said part of the reason for the low sales was that the sub shop was opened during COVID-19.
"Our goal is to reopen the space hopefully very soon," Boehlert said. "We're planning to incorporate a lot of student feedback and maybe even run some events to see what students might like."
Boehlert said one of the biggest ideas is a possible rotating shop, known as a "pop up," meaning the space would constantly change and offer different food items from time to time.
"We have a food service committee meeting on the last Wednesday of every month and they said they would like to see something change a couple of times a semester," Boehlert said.
While this concept might be possible, it would have to work with the space available as the former sub-shop space is not equipped with typical kitchen equipment such as stoves, fryers or a hood system to help with smoke and heat during cooking, Boehlert said.
"We want to make sure that we are incorporating students' ideas into what we reopen the sub shop as," Boehlert said. "At the end of the day, we want them to play a part since they're the ones that will utilize it when it's opened."
Boehlert said that even with the feedback, it will still take a lot of time to finalize the next food option, the earliest being next year.
"Our main goal was just using this year to get an idea set in stone for next year," Boehlert said. "This will require lots of preparation, hiring new employees along with training them, and obtaining products and properly advertising them."
Boehlert said he received large feedback from students when it came to Tres Habaneros and the sub shop. But though students liked it, they were not flocking to it every day as hoped with most students typically going to those shops once or twice a week. 
The other big hurdle with that space is whatever was there was essentially competing with Pioneer Cafe.
"Pioneer Cafe is always packed. It's considered a staple for getting food during late nights," Boehlert said. "So now we're taking this time to find out what students want more out of Pioneer Cafe so that we can expand that idea into the open space that was once the sub shop, think of it as an expansion to Pioneer Cafe instead of a completely separate area."
Boehlert said some ideas they've come up with for possible pop-ups include a panini side to Pioneer Cafe and possibly an acai bowl section. He encouraged students to reach out to him with any ideas on what to do with the space.
"I absolutely want to hear from students. I'm planning to even hold contests involving the future of the space," Boehlert said. "Some prizes from winning these contests could be something like four hundred dollars in declining balance."
Some students have already begun to think of ideas, like having the space being a spot where a meal exchange program could be set up. 
"It would allow students to exchange a meal from their meal plan for a specific set of items which includes pre-packaged meals, snacks, or beverages that can be consumed on the go," said Connor Cannell, a senior physical education student. "As a result, this program would provide the students the flexibility in their dining options, when it comes to their schedules and not having enough time to go to the dining commons to get food."