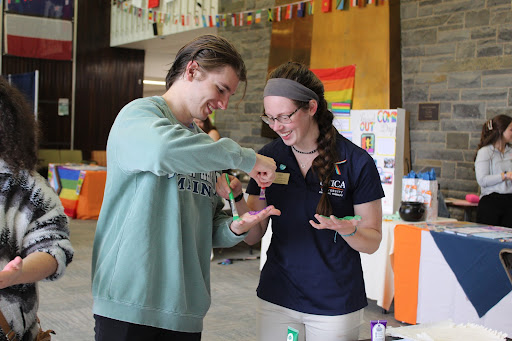 Utica University celebrated National Coming Out Day on Oct. 11 by creating a mural and telling the stories of LGBTQIA+ Pioneers across campus.
The office of Academic Affairs and Interim Provost Stephanie Nesbitt organized the event in Strebel Center where students, faculty and staff participated in the creation of the Coming Out Day mural covered with painted handprints of different colors. The Office of Academic Affairs plans to display the handprint mural somewhere on campus.
Tables were set up with information and LGBTQIA+themed snacks. To cap off the celebration, Nesbitt told her coming out story and encouraged anyone who wanted to to share their own stories. Many did.
"I had a great time, they gave me cookies and stickers," said Julia Tyrel, a childhood education major. "You get to see just how expansive this specific community is on campus."
Many students passing through Strebel enjoyed the event. LGBTQIA+ stickers, bracelets, pins and pamphlets were available to passersbyers. Queer and allied students found support in one another. 
Sully Walker, co-vice president of the Gender Sexuality Alliance, said as a queer person in the community, they want others to experience a supportive environment. 
"I'm glad we're taking steps in a more inclusive direction," Walker said. "Coming out it's a very tough time that makes a lot of people feel excluded or isolated and I think showing you are not alone with a community that has often felt ignored is important."
According to Walker, it can be hard for members of the LQBTQIA+ community to feel safe in today's political climate. States throughout the country are pushing anti-trans and anti-gay bills, but Utica University has shown support to its students and faculty by giving them a space to come out and be themselves.
"I've never experienced anything but a welcoming campus here," Nesbitt said.
One of the reasons Nesbitt wanted to organize this event was in response to student surveys revealing they felt the LGBTQIA+ community wasn't visible around campus. 
"I think it's important when you're in a leadership role to lead authentically, and that means I lead as who I am and I'm open about it so that students know that it's OK to be yourself," Nesbitt said. "One of the things that's been sad for me as an individual within the community is in June, when it's Pride Month, the students aren't here. So I think it's really important to me to have more events and to make sure that we're embracing those members of our community."
Since the event was a success, Academic Affairs is looking forward to holding another Coming Out Day event next year, she said.