POV: A man of many hats, student juggles full time job with full time classes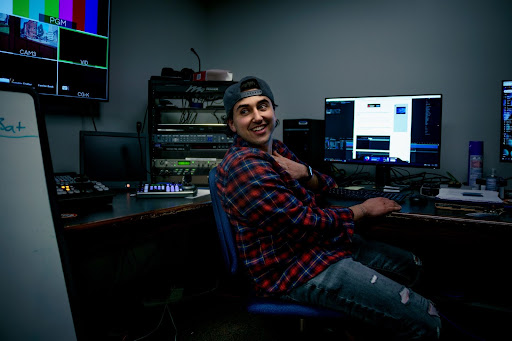 "Francis, I have another position open at my station in Syracuse."
That was all I could see of the text on my watch as I sat in the UticaTV studio editing the last game show of the fall semester. This was not the first time Doug Moreau, the director of video productions at the Adirondack Bank Center, had reached out to me about a job opening at WCNY, the PBS station of Central New York. At this point, I had known Doug for a year and a half since starting to freelance at the arena. 
Prior to the start of that fall semester of my senior year, Doug had reached out to me about a PA position. I politely declined this offer due to the position's inconsistent schedule and hour long commute, which would have prevented me from continuing on as the Station Manager of UticaTV and enjoying my eventful social life of my senior year. 
After ignoring Doug's text for almost 24 hours, a slight mental breakdown when seeing the letter K at the end of the starting pay and having my illogical rationale justified by one of my mentors, I responded in the only way that felt right.
"I would be interested in interviewing for the [producer] position." 
For those of you who know me and are reading this, I am sure that there will be an eye roll with what I am about to say. When it comes to my work/life balance I tend to lean more toward my work. Throughout my time at Utica, I have worked in some capacity with all of the student media organizations, both paid and unpaid. I worked with some more than others and even did work for multiple at once, so I always had a taste of balancing work and my courses. This is why I thought being a full-time TV producer and student would be something that I could easily handle. Boy, was I wrong about that. 
As a producer at WCNY, I am responsible for producing the new season of their show, "Behind The Woman," along with producing multiple side projects for our funding initiatives and helping shoot a children's show. This job did come with more responsibilities than the PA position, but the hour commute every day was still there. However, getting a producer job before even graduating was something that takes most a few years in the field to achieve. It only made sense to skip a step and I would sort out the other aspects of my life later. 
Turns out that I should have thought about this more because I constantly feel like I am being pulled in ten different directions. Every time that I have a productive day, scheduling guests to be on the show or writing a paper for one of my classes, it always feels like I am in the same place. There aren't enough hours within the day to get everything done. From waking up at six in the morning to walking in the door at nine at night. Cramming the days full of classes, meetings, scheduling, going out on shoots and freelancing on the side. However, as I sit to finish this in the middle of the night after working a seven-day week, all I can think of is how happy I am while working. The joy that I get from booking the perfect guest or getting the perfect shot for a video is unmatched by any other feeling that I have experienced. This makes the long days all worth it and I would do it again in a heartbeat because I love what I do. 
To anyone considering doing this, I would caution that it is a lot of hard work and will require putting in long hours, so be prepared for a couple of sleepless nights. More importantly, make sure that you are doing something you love. If you can derive joy from what you are doing then all the long days and hours spent going to work and class won't feel like another task on an endless list, but something essential to bring happiness to your life.