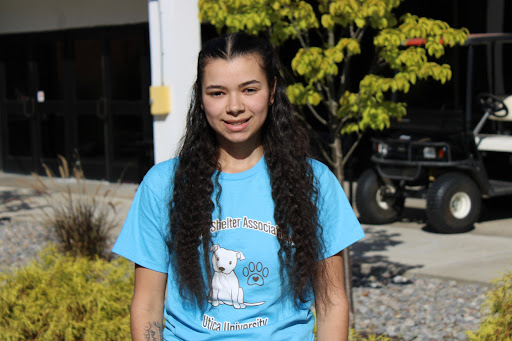 Annalise Michener didn't have much access to animals while growing up in boarding school, but has always had a love for furry creatures.
"My love for them grew even more once I graduated and was able to get a few pets of my own," Michener said.
Michener has a dog, two cats, two cockatiels and a bearded dragon. While she planned for many of the pets, she admitted that she wasn't the biggest fan of reptiles when she began her pet collection.
"I wanted to get to know reptiles a little bit better, so I got a bearded dragon which is considered a beginner pet for people who want to own some sort of reptile," Michener said.
As for the birds, Michener ended up with one cockatiel after a family member didn't want it anymore and she decided to take it in. She eventually got another cockatiel so they could socialize.
Michener said her love of animals is what made her choose animal behavior for a major.
"There's not a lot of animal behavior majors throughout the country," Michener said. "This major stood out to me because the usual majors involving animals are veterinary and biology, but I was looking into training animals or grooming animals."
As an animal behavior major, one of the classes Michener took involved working with animals at the Utica Zoo. Her favorite animals to work with were monkeys. When the class fed them and hid food in the toys, they would investigate it as if to make sure it was okay to eat. The animal behavior students found it entertaining.
Along with being an animal behavior major, Michener has also put effort into clubs such as the Animal Shelter Association (ASA) where students help raise money and make gifts for animals in humane societies and other places.
"I got involved with ASA shortly after I arrived here as a transfer student," Michener said. "The last few semesters I tried to volunteer as much as I could and help out the previous executive board we had."
This year, Michener is the vice president of ASA and works alongside Emma O'Donnell, the current president of the club. They enjoy working together, Michener said.