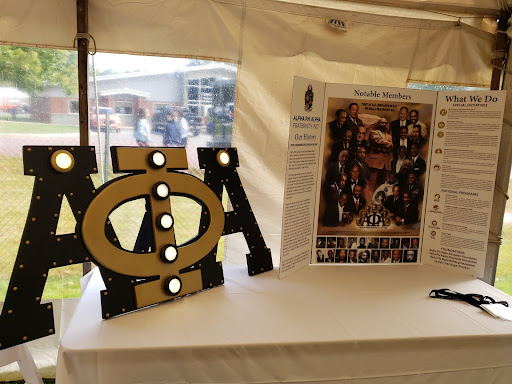 Work is underway in the Utica University campus community to reinstate 3 multicultural Greek organizations, including Zeta Phi Beta Sorority Incorporated, Omega Phi Beta Sorority Incorporated and Alpha Phi Alpha Fraternity Incorporated. 
The three at one point in time were all chartered organizations at the university. The thought behind the revitalization of Greek life on campus is to expand culture, excitement and vibrancy within campus life and to accommodate the needs of the ever-growing diversity in the student population. 
Devlin Daley, assistant director of campus engagement, oversees all functions of Greek life and said her department, Student Living and Campus Engagement (SLCE), looks to increase the diversity in student involvement with Greek life. 
According to Daley, the revitalization process will allow students to engage with alumni who are affiliated with these Greek organizations.  
"We have such a diverse student population that trying to find a Greek life home for as many students as possible is our aim and goal in my area, but then also allowing our undergraduate students to connect with alumni in this way," Daley said. "They're gonna have this shared experience, it's super unique and something that we're really excited about."
What makes these multicultural organizations different from the larger and more social Greek organizations on campus is how they select their members.
"They're really looking for the person that's going to embody what they're organization stands for, and I think that's really unique," Daley said. "They're not just picking anybody to be a part of it, they're really engaging with the community and figuring out how they can best support the student academically, socially, emotionally, whatever it may be and providing them with the right resources."
One of the organizations the university will bring back is Alpha Phi Alpha Fraternity Incorporated, a historically African-American fraternity, first established in 1906 at Cornell University. Utica University's Vice President for Diversity, Equity and Inclusion Dr. Anthony Baird is a "longstanding member" of the organization, having pledged when he was a student at Utica University, then Utica College of Syracuse. 
Baird noted that initiating the "reclamation or the bringing back of Black Greek organizations" at Utica University was driven by the growing diversity on campus, which is now at 27%. 
The work to bring back these organizations has brought a number of successes to the university, especially in the realm of student and alumni relations. 
"It's with that effort that we're winning on a number of fronts," Baird said. "We are reconnecting with our alumni, generating revenue to create scholarships [and] our students are being able to connect back with alumni for networking opportunities."
"We're bringing alumni back to the campus to be part of the fabric, part of the culture, part of the climate and we think it's been an amazing alignment born out of need and convenience and desire."
The "need" and "desire" for multicultural Greek organizations is especially pertinent to students of color who are tasked with navigating predominantly white spaces. 
"The [Black Student Union] and Greek life help so many of us persist while surviving a predominantly white college campus," Baird said, speaking from his own experience. 
"That's not an indictment, that's recognizing that when you're one of a few in an environment of many," he said. "Then you start to wonder how do you fit in, and so creating a balance of people in the community is really important to student survival." 
Mark Kovacs, the executive director for Diversity, Equity and Inclusion and coordinator for community relations, who first began his career at Utica as the director of residence life in 1989 said there was a very strong presence of Greek life on campus.
"Greek Life has always been a part of our institution," Kovacs said. "Some being local organizations and others national. What is also unique about our Greek Life at Utica University is that members of the National Pan-Hellenic Council, also known as the Divine Nine, have been a rich part of our history."
Kovacs recalled watching Baird interact with his Alpha Phi Alpha brothers as a student and noted the closeness shared between them.
"Watching him with his brothers, there was a certain bond and a certain tie that did not just excel academically but also excelled culturally on campus and had lots of offerings for others to belong to and attend and join in," Kovacs said. 
Daley, Baird and Kovacs all admitted that the current revitalization of Greek life is hard work.
"You need a certain amount of members to be recognized as a chapter. We got to get the support of the institution, whoever's coming in to be interested [and] they have to be aware of what it is," Baird said. "There [are] students of this generation that have no real idea of what Black Greek organizations or what Greek life is supposed to be about."
The work has become considerably harder with the lingering impact of COVID-19 on student involvement rates, according to Daley. However, SLCE has introduced a new policy this semester to help with engagement levels by allowing first-year students to join Greek organizations during their first semester on campus rather than in their second.  
"COVID really hurt Greek life," Daley said. "It hurt a lot of clubs and organizations and student engagement overall but now being able to market in the first few weeks just like another club or organization would be able to has spurred their excitement." 
Students involved in Greek organizations are required by the university to have at least a 2.0 GPA and first-year students in their first semester are required to sign a contract agreeing to maintain that GPA, risking academic probation if they fail to.
The results of this new student engagement model have worked well overall, according to Daley, who hopes "that trend continues." 
Terry Kirabo Nagginda, a cybersecurity major and sister of Sigma Gamma Rho Sorority Incorporated, joined the sorority at the end of her sophomore year, which happened to be when the Utica chapter was reactivated. 
"Actually, last semester we just had a reactivation of the chapter, which is myself," Nagginda said. "I came in as a solo which is a class of one. Right now it's just myself. It's [only] been a semester since the reactivation but it's definitely the chapter's number one goal to grow the chapter back to the way that it was on campus."
Despite being in the company of one in her sorority, she communicates regularly with other sisters of Sigma Gamma Rho sisters from other institutions.
"I'm the only chapter member on campus right now, but I do not feel alone at all," Nagginda said. "We have chapters in Syracuse, SUNY Albany, SUNY Binghamton, Cornell [and] SUNY Cortland."
A major value of Sigma Gamma Rho, which is a part of the Divine Nine, is education. 
According to Nagginda, many individuals outside of Greek life fail to recognize the purpose of Greek organizations which, contrary to popular belief, extends beyond socialization. 
"I do realize that many people do not get the proper idea of sororities," she said. "It might look like it's just for friendships and all of that, but I think I'm living proof that I did not join just for friendships because I'm the only one here."
Nagginda is working to revitalize Sigma Gamma Rho on campus, which she likes to think of as a "comeback" rather than a reinstatement. She steps and strolls at events and helps people gain a sense of what her sorority stands for. 
"I'd hate for people to have no idea of what this looks like," she said. "[Greek life] is definitely something you have to give time to read about and research and understand properly."