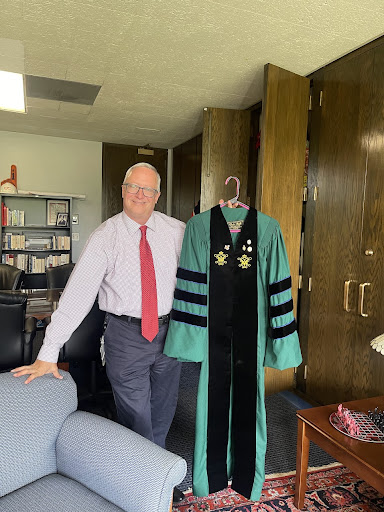 Utica University's annual Homecoming Weekend will take place at the end of the month, from Sept. 29 – Oct. 1. The three-day weekend is packed with events and activities for students, staff, faculty, alumni, and families to attend.
On Friday, Sept. 29 at 3 p.m. President-elect Todd Pfannestiel will officially be installed as Utica's tenth president by Board of Trustees Chairperson Jeremy Thurston at Charles A. Gaetano Stadium. Although he has been acting president since Aug. 1, the ceremony will mark the beginning of his presidency at Utica University after serving as provost and senior vice president for academic affairs at Utica for five years.
The ceremony will include a procession of alumni delegates, elected officials, Board of Trustees and Emeriti Trustees and Foundation Board members, the Utica Alumni Council, delegates from other academic institutions, members of the President's and Provost's Cabinets and faculty will all march into the stadium dressed in academic regalia and show their support.
Former President Laura Casamento will present Pfannestiel with the presidential medallion and Robert Brevnik, former chairperson of the Board of Trustees, will present the University Charter.
Pfannestiel's wife, Dr. Aimee Zellers, who currently serves as associate provost at Carlow University, will be in attendance as he described his presidency as "a partnership between the two."
He and Zellers both attended national workshops in preparation for the role, Pfannestiel said, as spouse or partner plays an important support role in meeting students and donors and attending events. 
Pfannestiel says although his wife doesn't believe him, he is sure she will be a president of an academic institution in her future as well. 
"I look forward to the day I can support and sacrifice for her the same way she does for us," he said.
Inauguration Planning Committee Chair Amy Lindner said the ceremony will follow a traditional format to "establish tradition and honor what has been done in the past." 
Pfannestiel hopes that the ceremony taking place during Homecoming weekend will bring in more people — students, parents and alumni — making the moment "extra special." 
Lindler hopes to see students get involved and for faculty and staff to attend as well and show support for Pfannestiel.
"He always adds a bit of a twist of humor and fun so I think it would be great for the students to see that and get an understanding of what his presidency will be like," Lindner said.
Some students are looking forward to Pfannestiel's term as president.
"I think he's going to do a lot to get more donations from different alumni," health science and physical therapy major Priya Katawala said. 
She hopes more money will be allocated towards student oriented things, like ice machines in dorm rooms. 
Katwala, a senior, believes it's important for students to attend the presidential inauguration.
"I think this is one of those things in history where it's important to your school and stuff that you value," Katawala said.
There is a formal reception scheduled for external constituents after the ceremony, but Pfannestiel and Zellers want to see the students first. After changing out of their ceremonial regalia, they'll go to the dining hall which will serve a menu mirroring the Beatles-themed menu at the reception. 
"I'm going to go where my students are first," Pfannestiel said. "Our true north is the students. You are the institution."
Katawala said with special events like this, "the dining hall kicks into gear" to serve food that reflects how special an event is.