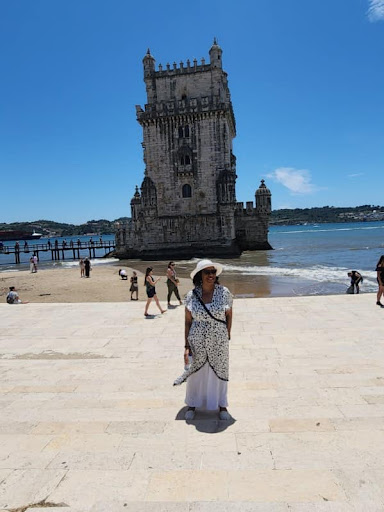 Dr. Marvee Marr is a business professor at Utica University's campus downtown. Her career began in Puerto Rico and since then, she has traveled the globe not only to teach but also to explore. To this day, Marr has visited over 94 different countries, and aims to visit 100 countries in her lifetime.
She recently sat down with The Tangerine to talk about her teaching career and passion for travel. 
Q: How did you start teaching abroad?
A: I moved to Puerto Rico in 1998. When I was looking for work, I found a part time job as an English as a second language teacher (ESL). After some time, I came across an advertisement for a job at a community college out of Texas, Central Texas College, and it taught all the military bases around Puerto Rico. I had a master's degree in fine arts and writing and they asked me to teach writing and literature classes.
Q: How many countries have you taught in since you began?

A: I have lived and worked in a total of 16 different countries. During a five year period when I was living in Europe, I visited and taught master programs in five different countries. My main home during the five period stay was in Slovakia, but my job sent me to Romania, Bulgaria, the Czech Republic and Switzerland.
Q: During this time, were you still teaching the same classes or had they changed again?

A: The classes I taught changed quite a bit before Europe. I went to Brazil after Puerto Rico where I continued to teach ESL. I turned to mostly English and literature when I left Brazil and began teaching in Mexico, however my second year in Mexico is when I began teaching business.
Q: Do you have a favorite country you taught in?
A: It's hard to say honestly. I will say my job in Europe that sent me to five different countries is my overall favorite position I've had because it allowed me to travel even more. The college I worked for that had me working in Europe still contacts me now about teaching abroad in other countries such as China.
Q: What advice would you give to students who express interest in studying abroad while they're in college?
A: My first piece of advice is go. I actually have a quote that I use, which is that traveling is 'knowledge with a view.' What you learn in another country is invaluable; you learn so much just about human nature. I even learned about our own political system while living abroad. You learn that the world is bigger and that there are more people who are different which is okay. For some people, living in a different country actually wakes them up to the fact that we as people are all different.