Reviews of the Pioneer Players production of 'Company'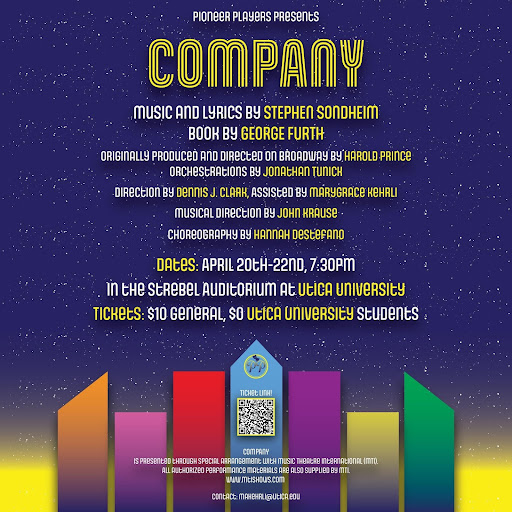 Bring 'Company' to see the theatre club's show this weekend
This show was reviewed by 2022 Utica University alumnus Gabby Hudziak
The outline of New York City skyscrapers, sleek black benches and three gray doors welcome the Utica University community to the world of Stephen Sondhiem's "Company."
The show is being performed by Pioneer Players Theatre Club, directed by Dennis J. Clark and assisted by student Marygrace Kehrli. A live band located near the bottom right corner of the stage provides orchestrations for each number.
The cast boasts an equal number of students and community members, as well as multiple students as part of the crew and design teams.
I didn't know much about "Company" before watching it. I'd heard a song or two before, I mean it is Sondheim after all, but it was nothing like what I expected. 
"Company" is the story about a 30-something year old man named Robert and his married friends who care about but deeply misunderstand him. The show is high-energy, displaying great performances from both the student and community actors alike. 
It is incredibly funny, with a great deal of balance between slapstick and general comedic timing with simple dialogue. There is also something deeply sad about the show, filled with well-meaning people trying to help someone when they don't understand what's going on with him, nor do they necessarily acknowledge what's going on in their own life. 
The musical performance was great, with each member of the cast getting their time to shine. I would especially like to highlight the performance of community member Jessica Wilk, for her incredibly funny and incredibly beautiful vocal performances. 
I would also like to commend Shayla Pominville's performance during her song "Not Getting Married Today." I greatly enjoy whenever theatrical performances acknowledge their own fourth wall, and this performance had that in darkly comedic spades. 
The show features scenes throughout the years of Robert's life during visits and outings with his married friends, also a few dates with various women. In these, I was struck by how the music was integrated into each scene. Generally, it was kind of like the supporting characters were some sort of omniscient, humorous Greek chorus, commenting on and playing with the scenes around them. 
The show was an interesting choice for a college theater club, particularly due to the emphasis the story puts on the ages of the characters. The characters in the show are in their thirties or older, and this actually matters to the plot. It seems to be about dealing with growing older, with the framing device being Robert's birthday.
It was hard to reconcile that personally when the cast was primarily made up of college students in their early 20s. This of course is not to say that the actors weren't doing a great job, nor that they aren't talented, I believe they did a marvelous job. It was just a bit of dissonance between what I was seeing and what it was supposed to mean. 
The set of the show evokes New York City, with the silhouettes of skyscrapers making up either side of the walls. The set is also primarily in black and white, with the exception of windows allowing colored light to shine through. The set was also incredibly versatile, believably evoking bars, apartment interiors and balconies. It was an excellent effort by the theatrical design class and their professor, Laura Salvaggio.
The show will run from Thursday, April 20 until Saturday, April 22. Showtime for each performance is 7:30 p.m. General audience tickets are $10 and student tickets are free. Tickets can be purchased at the door or online with a surcharge.
'Company' was an absolute treat to watch
Isabella Yaghy, Contributing Writer
I attended Utica University's Theatre Club's opening night performance of "Company" on Thursday, April 20.
The story follows 35 year old Bobby, who's yet to find a wife. All of Bobby's best friends are married couples, which doesn't make it any easier for him. In addition to this, Bobby cycles through three main love interests throughout the course of the musical, yet none of them seem to be the one.
I had a ball watching this musical. It opens with Bobby celebrating his 35th birthday with his married friends as he blows out the candles on his cake. As the musical progresses, a clever display of symbolism is presented as he goes on to blow out a set of candles numerous times throughout the musical, each time unspokenly representing another year as a bachelor.
A large component of the plot consists of getting an inside look at each married couple's life. For example, Harry and Sarah find themselves in a stereotypical marital tiff which lands them in a full blown, hilarious karate match. While incredibly entertaining for the audience, it further pushes Bobby away from the idea of marriage.
In contrast to Harry and Sarah's silly portrayal of being an "old married couple" that scares Bobby away, married couple Susan and Peter paint Bobby green with envy. They appear to have a wonderful marriage, to which Bobby exclaims that if they ever break up, he wants to be the first to know so he can swoop in and marry Susan. In perfect comedic timing, the couple announced their divorce.
Each and every musical number in "Company" was beautifully done. The songs ranged from emotionally intimate, silly and upbeat, sassy and technically stunning; they were all major crowd pleasers as everybody responded with hefty applause.
In particular, a crowd favorite was sung by Jessica Wilk, who played the character of Joanne and identified herself as "too young for the old folks, and too old for the young crowd."
Wilk performed a sassy, powerful solo in which she closed out by throwing her martini onto the audience. The crowd, including myself, was absolutely enthralled by her incredible stage presence and musical ability.
"Company" was an absolute treat to watch. The plot was constantly entertaining, interesting and humorous. This was paired with frequent songs that were so catchy and pleasing to the ears that they were stuck in my head a week later. Amazing job to everybody involved with this production.