Sexual Assault Awareness Month at Utica University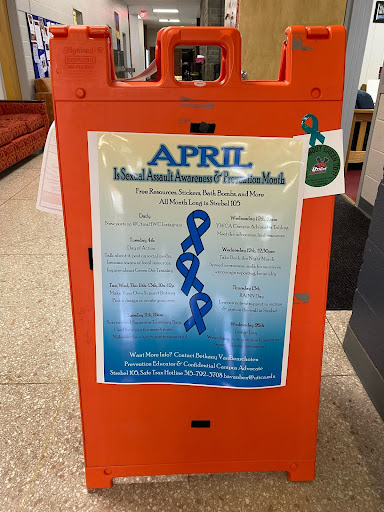 Throughout April, the Utica University Health and Wellness Center sponsored several events to provide education, awareness about sexual assault, as well as prevention.The activities provided free resources to the campus and encouraged important conversations on campus about what sexual assault is and how to prevent it.
Bethany VanBenschoten, the associate director of wellness & prevention education, is also a victim's advocate and confidential resource on campus.
According to VanBenschoten, one part of Sexual Assault Awareness and Prevention Month is to educate communities on the reality of sexual assault and what it can look like.
"Sexual assault is different in real life than what is portrayed in the movies or what people think about it," she said. "Most sexual assaults happen from someone that you know."
VanBenschoten said while few cases actually get reported, sexual assault can happen to anyone, regardless of their gender identity or sexual orientation.
"It doesn't always have to be a female victim and a male perpetrator. It can be any sort of mix of gender identities," she said. "That's why awareness is so important."
The month began with a "Day of Action" event on April 4, encouraging students to talk about sexual assault and inquire about resources, including Green Dot Training, a bystander invention training that is offered to anyone on campus.
The following week featured making buttons and luminary bags, meeting YWCA campus advocates, the Take Back The Night march across campus and honoring RAINN day by writing supportive notes to victims.
The last event, Denim Day, was held Wednesday, April 26, encouraging people to wear denim to fight against victim-blaming and stand in solidarity with survivors.
VanBenschoten said it is important to spread awareness about sexual assault on college campuses especially, as statistics show college students between the ages of 18 and 25 are more likely to experience sexual assault than any other demographic.
"The vast majority of instances [of sexual assault] happen to people who are in college," she said. "So we want to do what we can to make sure our community knows that, and knows how to prevent it or address it if it has already happened."
As a confidential resource on campus, VanBenschoten is not legally obligated to report cases of sexual assault to authorities but can provide resources, support and guidance to victims. She said her door is open to listen to anybody who has been affected by sexual assault.
"What happens surrounding sexual assault is absolutely 100 percent real. I know a lot of people are scared to say it out loud to themselves sometimes, but that can be really burdensome on somebody," VanBenschoten said. "Anybody on this campus that just doesn't know what to do or who to talk to, I'm here."
To learn more about sexual assault awareness, prevention and campus resources, contact the Health and Wellness Center or stop by Bethany VanBenschoten's office in Strebel 105.