BREAKING: Utica football registers 5-0 record after homecoming game win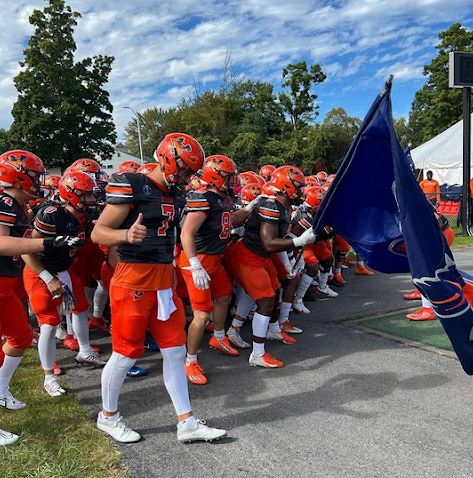 The Utica University football team registered a 5-0 record for the first time in the college's history after beating Hartwick in the homecoming conference games on Saturday, Oct. 1 at the Charles A. Gaetano Stadium.
The Pioneers have an undefeated streak for the 2022 season thus far, adding the win against Hartwick College with a score of 57-7 for a total 5-0 record.
Sam Florio got the first first touchdown for the Pioneers while kicker Corey Lichtman converted the extra point to make it 7-0 for the Pioneers with 6:22 left in the first quarter..
Hartwick hit back with a 91 yard touchdown with 1:51 left in the first quarter and the kicker converted the extra point to make it a tie of 7-7 at the end of first quarter.
At the beginning of the second quarter, Florio scored another touchdown for the Pioneers and Lichtman followed with the extra point. With 6:44 left in the second half, wide receiver Nate Palmer earned a 29-yard touchdown to make the score 21-7.
The Pioneers continued to the third quarter with a Pick 6. A 75-yarder made by Anthony Fasano, a linebacker, pushed the score to 34-7 in favor of the home team with 2:23 left in the third.
Running back James Salles capped off the third with a 14-yard touchdown with 0:06 left to make the score 41-7 in favor of Utica.
The scoring streak continued into the fourth quarter with a 34-yard touchdown by Matt Brantley, a wide receiver, pushing the score to 48-7 with 12:35 left in the fourth. Moments later, with 10:22 left in the fourth, wide receiver Joey Nare scored a 36-yard touchdown for the Pioneers for a 55-7 score.
The game ended with the Pioneers accumulating 57 points against the Hawks' 7.