Breaking Update: Utica College achieves University status, Utica University effective immediately
Utica College has achieved university status and will now be Utica University, according to President Laura Casamento and other Utica University officials.
According to Casamento, the New York State Board of Regents approved and endorsed the College's petition to be officially recognized as a University.
"This is a proud moment in Utica's history – the culmination of seventy-five years of innovation in higher learning and unwavering commitment to the communities we serve," Casamento said. "University status is a mark of how far we have come as an institution, as well as a recognition of our enormous potential for growth and achievement in the years ahead."
A press conference was held on Feb. 17, at 10:00 a.m. in the Cynkus Family Welcome Center, where President Casamento and Board of Trustees Chair Robert Brvenik announced that Utica College will now be Utica University.
"Now, for the worst kept secret in the Mohawk Valley, we will now be known forevermore as Utica University," Casamento said. "We're a university now and we're super proud of it."
On Jan. 26, 2022, the New York State Education Department (NYSED) Board of Regents voted to change the definition of "university." This proposed amendment was first brought to the Board in February 2021 and was officially passed this past January.
When this occurred, Utica College filed a charter amendment to the New York State Education Department to receive university status, according to a high ranking source from Utica University.
"We've been anticipating this for 15 years," Brvenik said. "There's a different connotation with university and this is just another milestone for Utica."
The charter has now been reviewed and confirmed. After 75 years, Utica College will now be known as Utica University.
Utica College had been functioning as a university for at least 15 years now, according to Casamento. New York State was the only state in the country that Utica wouldn't be recognized under university status.
"It's nice for the name to represent what the university is about," Board of Trustees member Jeremy Thurston said. "It paints a better picture for people on the outside looking in. It's really an exciting time."
According to Casamento, the graduating class of 2022 will have "Utica University" on their diplomas, and former graduates/alumni will be allowed to purchase updated Utica University diplomas.  Information about how alumni can get a Utica University diploma is forthcoming.
The transition to the new branding of Utica University will take place over the next several weeks. Accessories and other Utica University merchandise is not available as of yet, but will be soon.
Now that the Utica University can no longer be referred to as "UC," the higher officials at the university would prefer to be known as "Utica."
"We are not going by 'UU'," Casamento said. "We are Utica."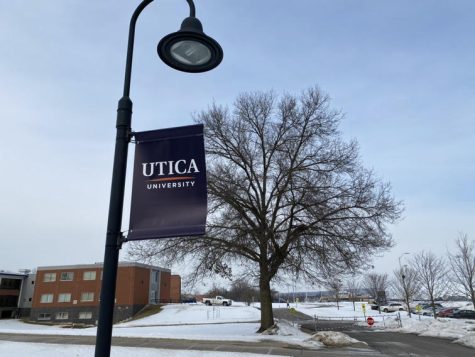 This story was breaking and will be updated as more news is still to come. A link to the updated story will be provided when available.