Utica College celebrates Black History Month, condemns threats towards HBCUs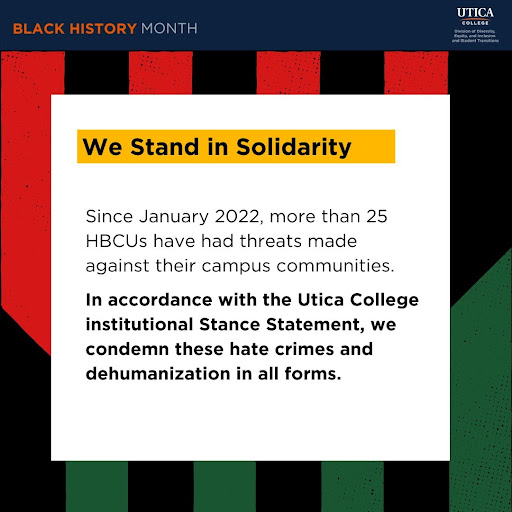 February marks Black History Month, a time to reflect on the history, achievements and experiences of the Black community.
The origin of Black History Month dates back to 1926, when Negro History Week was established by the Association for the Study of African American Life and History. The second week of February was chosen for Negro History Week in honor of both Abraham Lincoln and Frederick Douglass' birthdays falling within that week. During the Civil Rights movement in the 1960s, Negro History Week expanded to the entire month of February. Since 1976, every United States president from Gerald Ford to Joe Biden has endorsed the recognition of Black History Month.
"Given the history of America, we can't talk about America without talking about Black history," said Dr. Anthony Baird, vice president of Diversity, Equity and Inclusion, Student Transitions and CDO at Utica College. "If we're going to get to a place of inclusivity and belonging and respect and equity and everything that comes with those ideals, I think it's important to respect and appreciate and recognize that the very people who are and have been historically disenfranchised and marginalized as a people, in fact, have contributed in significant ways to the very society that they still continue to find themselves systematically and institutionally racialized, segregated or scapegoated or prejudiced against."
Since its inception, a theme has been designated each year during Black History Month to educate and highlight the importance of the Black experience. This year's theme is Black Health and Wellness. According to the Association for the Study of African American Life and History, "this theme acknowledges the legacy of not only Black scholars and medical practitioners in Western medicine, but also other ways of knowing (e.g., birthworkers, doulas, midwives, naturopaths, herbalists, etc.) throughout the African Diaspora. The 2022 theme considers activities, rituals and initiatives that Black communities have done to be well."
From the beginning of the year, and as recently as last week, bomb threats were sent to more than a dozen historically Black colleges and universities throughout the country. The FBI has identified six minors as potential suspects in the bomb threats towards HBCUs, however, no arrests have been made as of yet. In response to those threats, Utica College released the following statement:
"HBCUs, which serve as pillars of equity & camaraderie for historically underserved students, have faced a wave of threats over the last 2 months. In accordance with the Utica College institutional Stance Statement, we condemn these hate crimes and dehumanization in all forms."
Isabella Gilbert, president of the Black Student Union at Utica College, said the college's recent statement is comforting during a time when there is so much divisiveness in the United States. 
"That message is important because we do have students of color on this campus and we need to be told that we see you, we hear you, and we're listening," Gilbert said.
In celebration of Black History Month, Utica College has several events scheduled throughout February. This week, the Utica Diversity, Equity, and Inclusion Community Partnership will sponsor a virtual event on Thursday, Feb. 10 with New York Times best-selling author Ashley C. Ford, where she will be reading an excerpt from her memoir "Somebody's Daughter," followed by an open discussion with those in attendance. 
On Feb. 15, the Black Student Union and the Women's Resource Center will co-sponsor "Black Women in the Arts," where participants are able to discuss the history, culture and experiences that are shared through art by Black women.
Details on these events and other upcoming events can be found on Piohub.