No.3 UC men's ice hockey continues dominance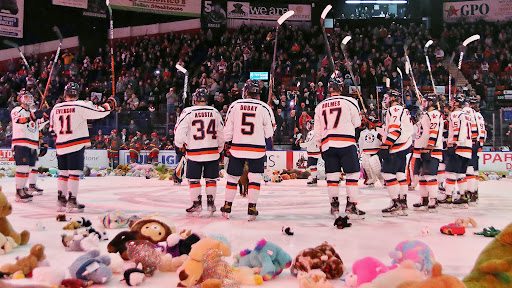 The Utica College men's ice hockey team is currently ranked No. 3 in the nation and has not lost a game since November.
Since losing to SUNY Geneseo, who was previously ranked the number one team in the nation, the Pioneers have been on an eight-game winning streak and have played exactly how they are ranked (No. 3). 
The last two matchups were both shutouts, in part to impressive performances from senior goaltender Sean Dickson, who is number one in the nation with a goals against average of (1.17), and freshman goaltender Bryan Landsberger.
"Each season is a process," head coach Gary Heenan said. "We keep trying to get better and better with the details of the game. We are getting there."  
During Utica's eight-game winning streak, the Pioneers have scored 47 goals, while allowing only nine goals and posting four shutouts. Having great team chemistry between all 27 players is crucial, especially if the team's goal is winning a national championship.
"I'm excited to continue to battle with the other 27 guys on the team,"  junior John Moncovich said. "We have a really close group and we'll never have this team play together again after this year. So as we get down the stretch, I'm focused on enjoying the moment and winning a national championship with this group."
Moncovich is currently leading the team with 28 points, while being ranked number two in the nation in goals per game (.88). Senior Regen Cavanagh is not far behind with 27 points, while Buster Larsson has 24, Brandon Osmundson has 23 and Justin Allen has 22 points.
"The team chemistry is very good currently, just like it's been all season," Moncovich said. "Everyone is brought into our culture and system. With everyone bought in, success follows. We just have to stay focused on the task at hand and take it one day at a time."
This week, sophomore Jayson Dobay was named UCHC Player of the Week, after posting seven points in the two 7-0 wins against Lebanon Valley College and Arcadia University. He recorded four assists against the Dutchmen and against the Knights, he had one goal and two assists.
This weekend, the Pioneers will be home for both matchups against UCHC opponents Stevenson University and Chatham University. Utica defeated both of these teams earlier in the season and they look to keep the streak going. 
The Saturday, Jan. 29 game is at 5 p.m. against Stevenson University and the Sunday, Jan. 30 game begins at 2 p.m. against Chatham University.