General Education Update for Fall 2022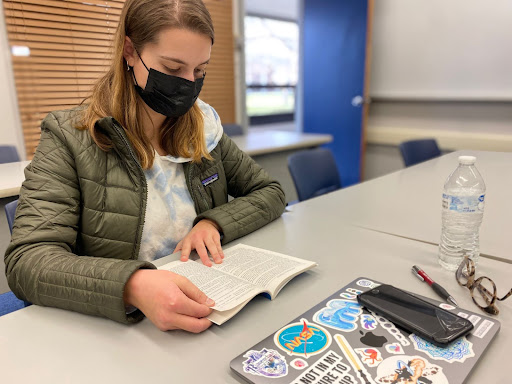 During a Utica College Faculty Senate meeting earlier this semester, faculty members endorsed a new General Education framework and are currently in the process of finalizing the details for Fall 2022.
The current Core Curriculum is adopting the name General Education as one of the first changes.
"Under a Core Model, at most colleges the word 'core' implies that there is a common set of classes all students will take," Provost and Senior Vice President of Academic Affairs Todd Pfannestiel said. "Under a General Education model, what you see more so are areas that need to be fulfilled with more choice built in."
The General Education framework is comprised of seven learning goals that ensure students will graduate with foundational skills, such as oral and written communication, and critical thought about human experience and social institutions.
These seven learning goals include:
Demonstrate effective written and oral communication

Demonstrate critical thinking and reasoning

Demonstrate proficiency in quantitative reasoning

Demonstrate scientific literacy through evidence-based inquiry

 Appreciate the range of human experiences as represented in the arts, literature, and other forms of cultural expression

Critically and ethically evaluate past and present implications of social institutions

Responsibly identify, locate, evaluate, and use information that is relevant to a given issue through information literacy and effective use of technology
The total number of General Education credits will be 37 rather than a cumulative 54. Students will have an extra 17 credits out of the total 120 required for graduation that can be used to explore new courses and pathways, according to Pfannestiel.
Another addition to the model is that two courses tagged as Diversity, Equity and Inclusion at a 300 or 400 level will be required.
"We wanted to be sure that there is much more intentionality in the study of diversity," Pfannestiel said. "We want to make sure that all our students are exposed to and learning about diverse cultures [and] diverse peoples."
The 37 credits will be divided into two sections: Foundations and a General Education minor, according to information provided to The Tangerine.
The Foundations courses will accumulate 19 total credits in Written Communication, Oral Communication, Critical Thinking, Quantitative Reasoning and Scientific Literacy.
Out of the 120 credits required for graduation from Utica College, a liberal arts institution, around 54 of those credits are contained under the Core Curriculum model. Students must take courses from three components: Basic Skills, General Education and Writing Intensive Courses.
Data collected from faculty members, student engagement surveys and other modes of information gathering sparked the alteration process, according to a Tangerine article from Spring 2021.
The Tangerine asked several faculty members from the college's three schools to comment about the new General Education model. However, most did not respond to the request or refused to comment. 
Several meetings were held during the summer and a tenured faculty General Education task force committee of six met frequently during the past few semesters to discuss possible new models.
One of the immediate differences from the previous model is the lack of a Foreign Language requirement, according to Patricia Swann, a public relations and management professor and member of the General Education task force committee.
"We will still have foreign language, but it will be a choice in the future," Swann said. "Hopefully, we will have a lot of students that take that up."
Students will have a minor built into the General Education model and have two options to choose from.
One option is the General Education minor, which will require students to choose five courses from different areas of knowledge.
However, students will also have the opportunity to choose six courses that hold a theme for a Thematic Pathway minor. Examples of this have not been decided yet, but could include themed pathways about environmental activism or gender studies in literature.
"We are trying to come up with themes that are relevant to [student] life that also teach the learning goals and excite students," Swann said.
When the new model is established, current students will have the option to switch depending on if it works for them.
"Our current students, if they wish to complete the current core model that they are under, they absolutely will," Pfannestiel said. "We have a commitment to our current students because we enrolled you here with the model that you're in and we're not going to force anybody into the new model. Likewise, students should have the opportunity to explore the new model, work closely with their advisor and success coach to see whether transitioning into that model would work for them."
The approval of the new General Education model is the first step to solidifying a plan. A new committee will be created to establish the necessary courses and logistics before Fall 2022.
This committee will include two faculty members from each school: Arts and Sciences, Business and Justice Studies and Health Professions and Education.
The committee is likely to include members from Career Readiness and Registrar offices to help advise the council, according to Pfannestiel.
English professor Gary Leising was chosen to be the Director of General Education and will be the seventh member on the committee.
Meetings will also discuss how transfer students might fit into the new General Education curriculum and the finer details of necessary groundwork before Fall 2022.
"That issue is high on my agenda for discussion when the general education council is appointed and can begin meeting," Leising said. "Even with many questions yet to be answered, this is exciting, and the future of UC's general education program looks brilliant."