Red Watch Band program promotes alcohol safety education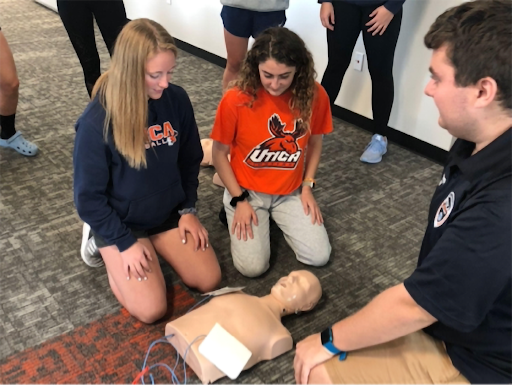 Utica College recently began offering a bystander intervention program to raise awareness and educate students about alcohol safety. The program, titled the Red Watch Band program, is made possible through grants that help improve safety security measures across campus.
Red Watch Band (RWB) is a program aimed to teach students how to react in situations of toxic drinking, learn important facts about drinking and bring awareness to the culture around college students and drinking.
The program originally started in 2009, following the death of Northwestern College student Matthew Sunshine, from a toxic drinking incident in which he consumed 17 shots of vodka in about an hour.
After the tragedy, Sunshine's mother launched the program at Stony Brook University, in hopes of preventing more incidents related to toxic drinking among college students.
"The training will provide students the tools they need to get help and to make sure everyone is safe in party situations," Assistant Director for College Engagement Jason Francey said.
CPR and AED training is included in the program, as well as education to ensure that students know how to help a peer suffering from an alcohol overdose.
The Red Watch Band Care Team is a peer-run group that reaches out to students to encourage involvement in the program training.
Executive Director of the Health & Wellness Center Thomas Lane explained the importance of raising awareness of this program to students on campus.
"It can be for athletes and non-athletes and due to COVID-19, we have had small responses to proposed sessions," Lane said.
The program began at Utica College in the fall of 2019, after receiving a $30,000 NCAA Choices Grant to address the common misuses of alcohol among college students, according to the Utica College website. Although the grant is primarily focused on student-athletes, as they make up a large amount of the student population, all students are highly encouraged to get involved and gain knowledge through the training.
Head women's lacrosse coach Kristin St. Hilaire said one of the goals the program has is to "train 100 students per year in Red Watch Band bystander intervention." 
Students can sign up for training and education through https://utica.presence.io/organization/red-watch-band-program. Spreading the word on social media is encouraged in order to reach as many students as possible and help the program flourish.