Track and multipurpose turf complex completed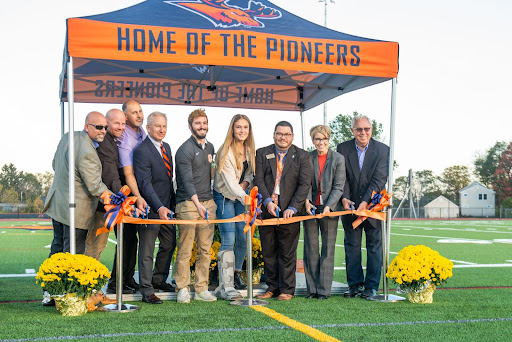 Nearly one year in the making, college officials cut the ribbon opening the multipurpose field on Oct. 21. 
The complex will become home to nearly half the school's teams, becoming especially important in the beginning of the spring semester when all spring sports are attempting to practice and play on the turf fields already in place. It was a $3.5 million project. 
In years past, scheduling multiple sports to practice with only one outdoor turf field became hectic, which is a prominent reason why Utica College Athletic Director Dave Fontaine felt the track and turf field was of most importance to add to the facility. 
"[Considering] the part of the country we live in, having a field that can be utilized during inclement weather is extremely important," Fontaine said. "Having two turf fields allows us to have simultaneous events like games and/or practices taking place and will hopefully reduce scheduling challenges for our student-athletes."
Many spring sports know this far too well. During a time of the year that starts with snow and an unplayable hard ground, the new turf will make some seasons run smoother. With turf, teams will avoid unnecessary travel and rescheduling caused by poor field conditions. 
That being said, those most excited about the new complex are those who will be utilizing it in its entirety- the men's and women's track and field teams. 
For indoor track and field, both the men and women have the luxury of the Todd & Jen Hutton Sports & Recreation Center (Dome), where most of their meets are held each year. Adding the outdoor track gives an official home to the outdoor track and field teams. 
Not only are the current athletes grateful for this addition, but the new track and field has the potential to put the entire school on the minds of hundreds of prospective student athletes. 
Head track and field coach James Lemieux said that, "adding this new complex really puts us [Utica College] on the map with some of the best, if not the best athletic facilities in Upstate New York." 
"From a track and field perspective, having this outdoor track will be a huge boost to our recruiting efforts, since now we have the ability to host not just regular outdoor meets, but also conference and regional championships," Lemieux said.
With the Dome and track combination, as well as Utica's local amenities and nearby hotels, it is not too far of a stretch to expect that the school's new turf may host a national championship one day. 
As of right now, a competition has yet to be scheduled for the turf, but there are hopes that the first will be hosted mid-May. The women's soccer team however, was granted the privilege to practice on it first.