Q and A with Coach Josh Higby: Rejoining the Pioneers family and preparation for senior day tri-match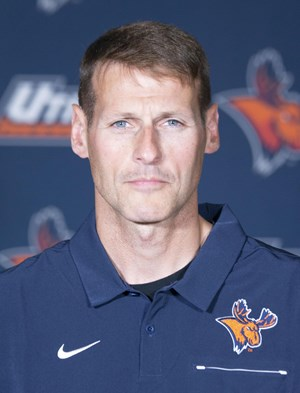 The Utica College women's volleyball team enters their tri-match this weekend with their new head coach, Josh Higby. After spending the last seven years as the Mohawk Valley Community College head volleyball coach, Higby is back at Utica College, where he earned his bachelor's and master's degrees.
Utica College Athletic Director Dave Fontaine announced Higby's hiring in early August, and two months later, Higby has brought instant success to the Pioneers program. The Pioneers enter their tri-match on Saturday, Oct. 16, with a 6-13 (2-4 E8) record. The six wins this season have already doubled the Pioneers' win totals in the past two seasons combined (1-4 in 2020 and 2-25 in 2019). The last time the Pioneers had more than six wins was in 2017, when they finished the season 7-23. 
Higby continues to demonstrate why he was named Coach of the Year in 2019 in the Mountain Valley Conference for MVCC, as the Pioneers look to enter Empire 8 tournament play for the second straight season.
Q: You didn't just go to school here, but you were also a part of the lacrosse team. What was that like back about 20 years ago and how did a lacrosse player find his way into coaching volleyball?
A: I had a great time when I was here. I learned a lot about lacrosse and all that good stuff. I look at the way the college is now and how it's changed. It's improved. It's so amazing when you see all the facilities. The dome and the new football field. It's just awesome. I started with volleyball as soon as I finished doing my two years here. I was doing my student teaching and Tim Nelson told me there was an opportunity to go for a job interview at Mount Markham. So I went and got there and got the job and I was like okay. The next year, one of the coaches there said 'hey, we need a coach for volleyball,' and I'm like 'oh, okay,'  so I jumped into it. I started talking with other coaches and did a lot of reading and writing and all that stuff and figured out what would work best for volleyball. I've been doing it for close to 20 years, not quite yet, but getting there.
Q: When you first got hired, what were your initial goals and what did you hope to accomplish as the newest member to the volleyball program?
A: I guess the real goal is we just want the kids to buy into the philosophy. We always talk about honesty and adversity and learning to become the best people they can become, and obviously become the best volleyball players they can become. This year is nice, because the kids are all nice kids, and they're all working and trying to get better at what they're doing. So it's a lot of excitement so far.
Q: The stats have shown Eleanor Cepiel and Kurstan Martin as the shining lights of the program as they are battling for who leads the team in points and kills. How vital have those players been for the program this year?
A: I think every kid is pretty important with what we're doing. I think as far as getting the points, killing the points and terminating a point, Cepiel and Martin are the ones doing all the killing. Really, the overall passing is improving. The receiving is collectively improving dramatically as a team and that's allowing the setters to have a better opportunity to set the ball and those outside hitters really are pounding the ball which is great, so hopefully we'll keep it running.
Q: Following your first match against SUNY Poly you'll be going against King's College who come into this match 15-2 with Olivia Bunch leading the team in kills. How will you look to target stopping her in this match?
A: I think the real goal, again, is like we always tell the kids you got to pass and serve. If they can do that, that will make us competitive against anybody we play against. Then if we can play defense and read well, I think it will be okay for the game.
Q: Now next weekend you have the annual Breast Cancer Awareness Day. How important do you think it is to have a match like this on such an emotional day promoting a good cause?
A: I think the kids are and hopefully they'll play with a little extra little pep in their step. They're fighting for a little more of a cause and they fundraised. They were able to fundraise to get a lot of money donated to different cancer programs. They sold a bunch of t-shirts that have the Pioneers logo on it. They gave out those shirts to people, nice pink shirts and they're doing a raffle for an Adirondack lawn chair.