Virtual Job and Internship Fair coming soon
As students travel down the halls of Hubbard, they are likely to see bulletin boards advertising an upcoming Job and Internship Fair. Each year, Utica College sponsors this fair during the spring semester to promote networking opportunities for students. On March 24, potential employers and students will be meeting virtually for the first time because of COVID-19 precautions.
"It allows us to reach employers and students that may not have been able to travel to Utica for the fair," said Victoria Pardee. She is the assistant director of career development at Utica College and has a key role in building this upcoming fair experience. "We have many cybersecurity students who are throughout the United States and now they have the capability to attend the fair."
There will be over 20 employers present during the virtual fair, including representatives from WKTV NewsChannel 2, Oneida Nation Enterprises from Turning Stone and Bassett Medical Center. Utica College has employer partners that are invited annually, but others are invited based on community input.
"We make every attempt to match employers with the majors we have at Utica College," Pardee said. "We also connect with students and faculty members to see if there are any employers they'd like to see at the fair."
Students can sign up for individual sessions via Zoom with potential employers. There are options for group-sessions specifically for a certain company during the Job and Internship Fair.
"I think that this makes everything less intimidating," said Christopher Rosato, a health studies major. "I think it will also allow for a more specific experience as there will be smaller groups according to certain professions rather than a bunch of employers scattered around a room."
Registration for the fair is completely handled by the Handshake system. Handshake was introduced to the Utica College community during the summer of 2020 and is utilized by the Career Development Office to have an intuitive support format.
The pandemic, which directly affected Utica College campus during March 2020, has pushed several facets of life towards a virtual setting. It has been estimated that by 2025, 36.2 million American workers will be remote. The future of a remote workplace may also impact the number of virtual interviews conducted.
"Virtual interviews could make it harder to get the job because most in-person companies are using this as a 'pre-interview before actually bringing someone into the office," said Sydney Scaccia, a data science major . "If the company is fully online, this could be beneficial because it will showcase how you can operate over the phone or Zoom."
The UC Career Department Instagram account has been active in helping students prepare for the upcoming fair. Several posts from the past few weeks, either shared from the Handshake official account or an original post, promote advice for making the most out of the three-hour fair. There has also been an ongoing countdown of students registered to meet the goal of 110 attendees. As of March 12, the number has been elevated to over 80 participants.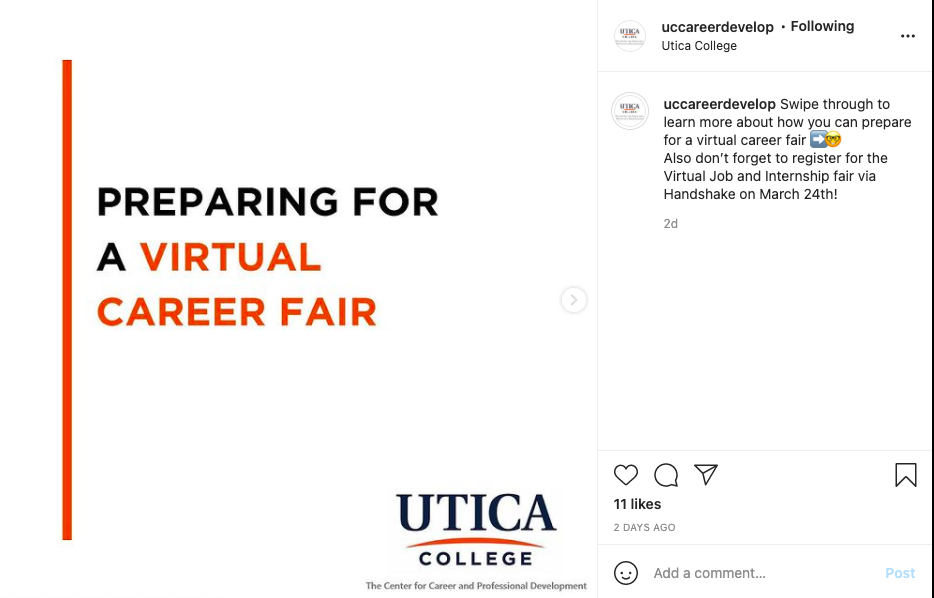 Some of the tips include researching the session-employers beforehand, preparing talking points and questions and optimizing the Handshake platform by uploading PDF resumes.
"Prepare some talking points and questions," Pardee said. "What do you want to ask the employer or let them know about you? Perhaps asking about the positions they have open, what opportunities they have, and what they're looking for in applicants. You'll want to have your 'elevator pitch' or '30 second commercial' ready to share an overview of you, your education, your experiences and your career goals."
Leading up to the event, there will be two virtual workshops starting at 4 p.m. each entitled: "Preparing for the Job & Internship Fair: Getting Ready for Success" on March 16 and "Preparing for the Job & Internship Fair: Last Minute Tips!" on March 23. Registration will be held on Handshake.
"Most colleges and universities have transitioned to virtual events, so many of our employers have attended a fair via Handshake before," said Pardee. "This is our 'new normal' and we are excited for March 24."