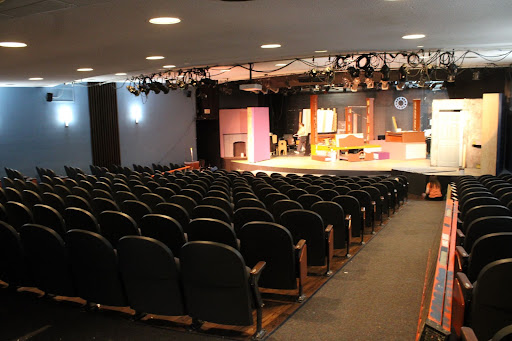 Utica University's Theatre Department will present "Into the Woods" as the fall semester musical from Nov. 9 – 12 in Strebel Auditorium. The show was written by James Lapine with music and lyrics by the late Stephen Sondheim.
"Into the Woods" was nominated for 10 Tony Awards and won three during its original Broadway production run in 1987.
 The story intertwines plots from some famous Brothers Grimm fairy tales including "Little Red Riding Hood," "Jack and the Beanstalk," "Cinderella" and more. It involves a childless baker and his wife who go on a quest to start a family.
 Dennis Clark is the show's director and previously directed "Company" and "I Love You Because" at Utica University. Many of the actors said they enjoyed working with him and looked like they were having a great time while performing. 
 In a recent rehearsal, there was constant movement in the theater. Clark said he strives to make a good scene even better and takes pages of notes when the actors run through a show to share and review with the actors later. He allows his actors creative freedom to figure out who their characters are, he said.
 "Come in with whatever you want to do and I'll steer it and I see what they come to the table with," Clark said. "If they seem to be reticent and not really stepping forward with anything, I'll try to outline it a little bit for them and see what they come up with."
 Many of the "Into the Woods" cast members are not Utica students. Some are from local elementary and high schools and a few are community members.
Sauquoit Valley High School senior Evie Flynn will play Rapunzel in her first Utica University show. 
 "It was super shocking and interesting with the whole auditioning and getting casted," Flynn said. "It's been a lot of memorization and getting to know everybody and it has been a really good experience."
 Utica University senior Derek Corsner will portray The Mysterious Man. He has been in many of the university's productions and is familiar with the amount of work that goes into a successful show.
 "It is a very challenging score and act," Corsner said. "It's going to take a lot of repetition to get this show finalized and ready for the audience to see."
 The director, musical director, cast and crew have put a lot of time into the show to ensure it goes perfectly, including long rehearsals five nights a week. Each of them is dedicated to giving the audience a show to remember.