'Company' by the Pioneer Players set to perform this week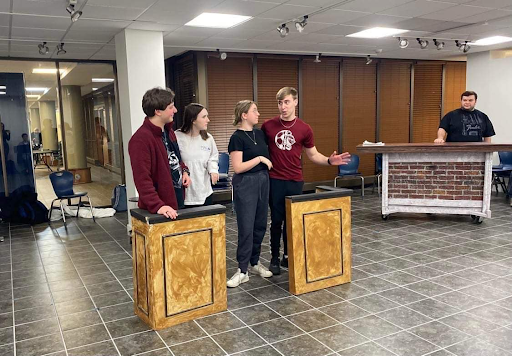 Rehearsals are in full swing for the Pioneer Players' spring musical "Company," set to perform April 20-22 at 7:30 p.m. in Strebel Auditorium. 
"Company" follows a bachelor named Bobby and his married friends who throw a party for his 35th birthday. It is a series of vignettes focusing on the perils and pleasure of love, marriage, divorce and dating among married couples, according to Playbill.com. The music and lyrics are by Stephen Sondheim. 
Sophomore Dante Palumbo will play Peter, one of five husbands in the show. He started preparing for the show before auditions even began. The musical numbers are "a blast" to sing and the cast has had a lot of fun bringing the characters to life. 
For Palumbo, the role of Peter helped him improve his dancing skills and he always feels good whenever he's working on the show. 
"Audiences should expect a fun, high energy show with a cast that will definitely impress them," Palumbo said. "They should also expect to learn some fun and thoughtful lessons about life."
Third-year student Jacob Carissimo, an English education major, will play Harry in the production. Another of the five husbands, Carissimo considers Harry to be "a happy character, but not really able to understand or appreciate that happiness," and also "a drunk."
According to Carissimo, preparation for any role requires utilizing the skills he's acquired as an English major such as close reading to determine a character's motivation behind their actions and how to translate that through his performance.
Carissimo's favorite part of the show is the number "Side by Side by Side," which he considers to be the "musical and lyrical zenith of the show."
"It's a good marriage of the theatrical veins the show arises out of along with the ways in which it was genuinely groundbreaking when it came out," Carissimo said.
Tickets are $10, but are free to Utica University students. They can be purchased online through Eventbrite and at the door.