Utica University Theater Department to present "In The Blood" with six showtimes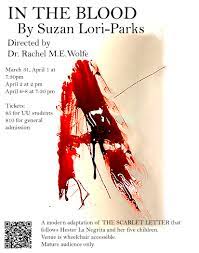 The Utica University Theatre Department will present the play "In The Blood" on March 31, April 1, 6, 7  and 8 at 7:30 p.m. and April 2 at 2 p.m. in Strebel Auditorium.
The play is a modern adaptation of the classic novel "The Scarlet Letter." It tells the story of Hester, a single mother of five, who battles poverty, discrimination and social rejection while trying to support her family. 
"The whole play is really an extended meditation on the idea of the 'welfare queen,' or someone who lives in poverty, and how they are damaged by systems that are supposed to help them," Director Rachel Wolfe said. 
According to Wolfe, the play was chosen because it was popular among students when she taught it in her "Black Feminisms on Stage" course. 
"It was the most popular play that my students read that semester," she said. "And quite frankly, my students are right. It's an excellently written play."
"In The Blood" marks the department's first show to be performed on two weekends instead of one. Wolfe said she hopes the extended run will provide more time for reviewers to attend. 
"This is actually the first year that we are trying to have a two-weekend run of the show," she said. "We're hoping that will result in more people coming to see our play." 
Lead actor V Prather, who plays Hester, described how "In The Blood" touches on important topics surrounding women of color and oppression. She said that while playing the role can be difficult because of the play's heavy material, she was inclined to tell Hester's story. 
"I was drawn to this role and really wanted to take care of Hester," Prather said. 
Prather said she is proud of the work she and her castmates have put into the show for the past six weeks and is excited to share it with the audience. The play is recommended for mature audiences only and tickets will be sold at the door. Admission is $5 for students and $10 for the general public. Tickets can also be purchased in advance on the Utica University Theatre Department website.