UCTV gains Popularity and Increases Production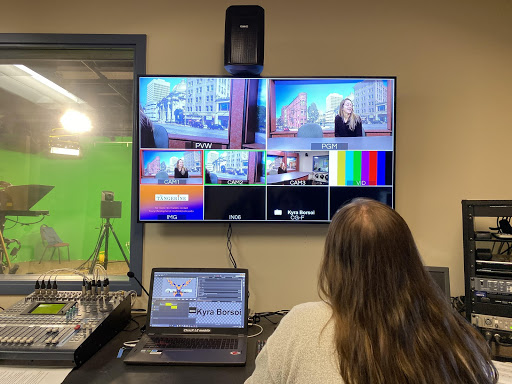 The Utica College TV Club is an organization that allows students to produce video content about and for the college. The club also creates PSAs and informs the campus on events and news through video production.
The production studio is located in the basement of Hubbard Hall and there has been an increase in campus-wide interest this semester.
Communication and Media Professor Laura Lewin is the media specialist and faculty member that advises UCTV. She said the club is student-driven, taking the charge of coming up with ideas and implementing them.
Robert Stevens is a sophomore at Utica College majoring in communications and media and one of the club's members. Stevens was interested in UCTV because it related to his major and also because he enjoys being behind the camera and talking about anything he can research.
"I joined my first week on campus, freshman year," Stevens said. "I went to the Involvement Fair and saw the camera they had out, which got me hooked, and I wanted to join immediately."
This year, Stevens is the secretary of UCTV as well as the anchor of the show "UCTV Overtime." Stevens said he goes out into the field for interviews for big events such as Homecoming.
"UCTV is another way students are able to obtain more skills and add it to their 'toolbox,'" Stevens said.
He also said he appreciates the strong leadership and direction from co-managers, Mark Mitchell and Derek Hamilton.
"They are helping us put out more content consistently than we have before," Stevens said.
Mitchell joined UCTV two years ago during his spring semester as a volunteer.
"I wasn't ready for a lot of responsibility," he said. "I didn't want a title and just wanted to help. We started building from the ground up at that point but slowly. UCTV had a very small staff so it was difficult to expand to where we are today."
Mitchell said that the growth of this organization has shaped his college experience by allowing him to step out of his comfort zone and be immersed in everything UC.
Mitchell and Hamilton work together to organize daily meetings and discuss events that the club is going to cover. The organization is busier than ever this semester, which is allowing students to gain real world experience.
Currently the organization produces two weekly shows: Moose Now and UCTV Overtime.
Moose Now focuses on the events that happen around campus and includes a weekly highlight of a club on campus, while UCTV Overtime is all about sports, focusing on UC athletics and the different sporting events occurring during the week.
UCTV means a lot to both Stevens and Mitchell. Stevens expressed his desire to gain involvement with athletics, including conducting interviews with athletes for the show. UCTV also allows students to pursue what they want to do in the future and gives them opportunities to learn and grow through the experiences, while also gaining confidence within themselves.
Mitchell believes that UCTV has guided his college career and taught him many skills, such as learning how to manage others and himself.
"When I leave at the end of this semester, this is what I am going to miss the most, coming here every day," Mitchell said.
The UC community can view these productions every Tuesday evening and Wednesday night when they premiere on YouTube.
Supporters of UC can also view UCTV's special project that will be airing mid-November through December.
Currently UCTV is partnering with New York Sash to create a collaborative production showcasing UC Pioneer athletics.
New York Sash is an organization that specializes in home improvement and renovation work. Additionally, they are big supporters of UC athletics and have a strong relationship with the men's ice hockey team.
One event that is a big part of this collaborative product is the Teddy Bear Toss. This takes place during one of the UC men's hockey games during the holiday season.
When the Pioneers score their first goal, everyone in the arena throws the teddy bear they previously purchased onto the ice. The teddy bears are then donated locally and given to children for the holiday season.
"Some people bring those gigantic oversized stuffed bears," Lewin said. "The game has high energy, and the arena is full and the excitement is amazing."
This production episode will focus on all the athletic programs UC has to offer and will have a segment highlighting the Teddy Bear Toss. The whole episode will be approximately 22 minutes long.
UCTV members have been busy gathering b-roll content, as well as interviewing coaches and players from different teams, to discuss their personal experiences and what it is like being a student athlete.
Aside from this large production project, UCTV is doing other production work around campus this semester and continues to promote the organization through social media and more.
Lewin said she hopes to start livestreaming Moose Now and UCTV Overtime on YouTube and Instagram.
Students can attend one of these events to learn more about UCTV,  join the club that meets at 2 p.m. every Wednesday and/or register for the practicum class.