Champlin House Offices Looking at Possible Move Downtown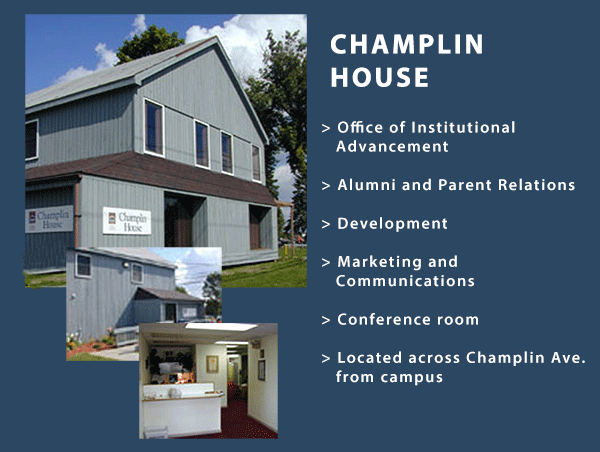 Kaitlyn Tambasco, Special Assignments Reporter
Last October, an idea started to float around dealing with office space both on and off campus. That idea was to move the offices in Champlin House, located across Champlin Avenue, to the fourth floor of the Clark City Center in downtown Utica.
Vice President for Advancement George Nehme works in Champlin House and said there is many considerations that need to be made before making a final decision on a location. Although not entirely sure, Nehme explained that if location changes will be made they will be done within the next year.
"The Champlin House is very old, and re-doing it would cost too much," Nehme said. "If our whole office moves to the Clark City Center, it's not likely that there will be any major changes, nor any major constructions."
Nehme stated that five members of his staff already are at the Clark City Center. If the other members of Advancement move downtown, there could be several different things that could happen to Champlin House.
"The first is that more administrative offices could be here," Nehme said. "Nothing from Student Services would end up over here. The second is that the Champlin House could just be used as a storage building."
According to Nehme, there are a few "pros and cons" to these ideas.
Some of the pros is that the Clark City Center is newer and moving offices from Champlin House to downtown will help Utica College use space more effectively. Some of the cons is that some of the staff like being close to campus, as some staff members are on campus all the time.
"We really support the Space Committee as well as President Casamento," Nehme said. "We need the support, and we need to be ensured that we do it right and make the best decision for everyone involved."
Kim Lambert, vice president for institutional planning and senior executive assistant to the president, said that the idea to move the offices in the Champlin House to the Clark City Center originated from the campus's Space Committee and then furthered on to President Laura Casamento.
Just like Nehme, Lambert stated the pros and cons of this idea.
"Change is difficult for anyone and money is always a factor, too," Lambert said. "There's been a whole lot of short term moves, and people have just been moved where there is space."
One main pro of this is it will better serve students and be more convenient.
"We probably won't know if this will take place until about a month or so," Lambert said. "We've really been digesting and shuffling things around because we want to make the best decision possible."