After 41 years, Johnsen plans to retire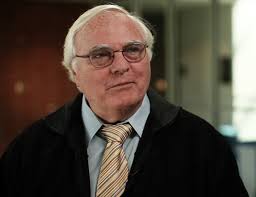 Samuel Northrup, Editor-in-Chief
John Johnsen will be retiring as provost and senior vice president for academic affairs at Utica College following the spring semester. The end of the second semester will mark Johnsen's 41st and final year at UC where he has served in various roles as a faculty member, dean and now provost.
Following the retirement of his predecessor, the longtime academic was named to his current position after faculty members petitioned for him to become the next provost while he was serving as dean for the School of Arts and Sciences.
"I think we've got the greatest students in the world," Johnsen said when asked what has been his favorite part of working at UC. "They're nice kids, they're unpretentious, they're not elitist, they're really a great bunch of people. I have always drawn strength and happiness out of my relationship with students."
Johnsen says he has always enjoyed living the life of an academic, especially working with both the faculty and student body.
"You're surrounded by smart people," he said. "Both in your classroom and the offices of your colleagues, you have great conversations and you see students develop and take off and do great things. It's really very nice."
In a memo sent to faculty on Aug. 29, President Laura Casamento announced the "national search for Utica College's next provost and senior vice president for academic affairs is underway." The committee includes members of the faculty, staff, board of trustees and students.
Per the memo, interviews are expected to begin "with a select group of candidates by November" and finalists could be brought to campus in early December.
Johnsen's advice to the new provost is simple: they have to love the faculty and students in addition to teaching and learning.
"You've got to love what you're doing," he said. "Even with all those bumps that are inevitable."