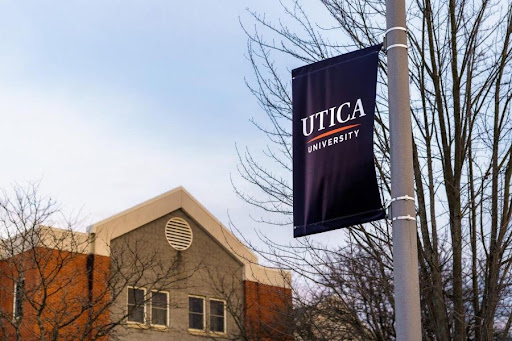 The Professional Development Committee (PDC) at Utica University has one main goal: to assist in the professional development of individual faculty members at the university. This might take on different forms depending on the field or discipline and may include attending conferences, keeping up to date with new research, and learning from other institutions.
In the 2022-2023 academic year, 79 staff members reported participating in over 600 professional development and engagement activities. According to a report made by the PDC, the university's Advancement division, which works on creating alumni relations and building the university's reputation, had the highest percentage of reported professional development activities at 28.8% with 189 staff members.
Vice President for Advancement Amy Lindner said a big component of the division's professional development is community engagement. 
"That's a big piece that might get overlooked," Lindner said. "Because we deal with alumni, we want to make sure that you as students don't first hear from us when you become alumni, that you know who we are when you're students. So I think a big piece of our success in that ranking is the fact that we try and come to as many campus events as possible."
Many of the professional development activities fulfill the purpose of learning about best practices for particular departments. 
"A lot of [what is learned] is best practices, what has been most effective," Lindner said. "For example, 5 years ago we never used text messaging to communicate with our alumni. Once we brought that technology on we had to learn when is the best time to use it, how often do people want to get texts from us and about what, and how the content of those texts could be most effective."
The Department of Admissions and Enrollment Management at Utica came in with the second highest rate, reporting 116 employees and a 17.7%  rate. 
Jessica Nelson, executive director of admissions, said that as a supervisor, she encourages the staff to attend as many professional development opportunities as they can.
Some professional development activities that are particular to the Department of Admissions include learning about "the best way to attract students to campus" or how to "communicate with students properly," according to Nelson. 
These activities go beyond professional development, she said, as many also contribute to a staff member's personal self-development.
"Some of them are strictly personal self-development type of things like public speaking, writing or whatever the person whose taking the training is interested in," Nelson said. "It doesn't always have to be specific to their job because developing themselves otherwise helps their job without them even knowing it." 
For faculty members, professional development is a continuous endeavor. 
"Our tenured faculty members and our research faculty members are always working on something," Interim Provost and Senior Vice President of Academic Affairs Stephanie Nesbitt said. "They have research they're doing, things that they're writing if they're from the more creative disciplines, so that's sort of an obligation for them but it's also a passion for them." 
For many professors of practice who are not on a tenure-track and may not be research faculty, they often maintain practice in their professional field in the outside world, so some nurses still provide pro bono nursing or work shifts in a hospital, according to Nesbitt.
"There's a variety of professional development that faculty do and that is just part of being a faculty," she said. 
For many departments and their employees, finding the time and the financial means can present obstacles to pursuing professional development activities. These limitations can lead to a department or division landing a lower rate on the professional development scale.  
Nesbitt said that lower rates are often attributed to faculty members who are paying attention to the financial assets of the university and might be waiting for a better time to pursue costlier professional development activities.
"What we find often is that people who are really good stewards of our financial assets and means, often when we ask them not to do something they really take us in our word," she said. "So they won't ask to go to a conference, they won't ask to do something right now because they want to help us out with the institution."
According to Nesbitt, it's difficult to find an answer for lower percentages of professional development due to the effects of the pandemic that are still lingering on the university and its finances.
"So I think it's hard given the COVID pandemic and where we've been to say, 'Oh that department has a low rate of professional development that's probably a problem,'" she said. "That may mean that they're just really committed people to the campus community and haven't been spending much money as we've really been minding ourselves as we emerge from the pandemic. In a perfect world where those things didn't exist, you'd be perhaps a bit concerned but in this world, I think it's really difficult to assign a cause to that."
Professional development opportunities are encouraged for all staff members to satisfy their curiosity and passions, and to stifle any complacency or boredom that might occur along the way. 
A professional career no matter what it is should be a constant journey and a quest for improvement and a quest for new knowledge and learning, particularly in higher education, Nesbitt said. 
"The human experience is an evolving one and I think when we stop pursuing knowledge and improvement we almost stop in place, and that sounds really corny in some ways but I think it's really true," she said. "We are blessed with these phenomenal minds that are curious and interested in things. If we don't pursue knowledge and growth and learning, what are we doing?"