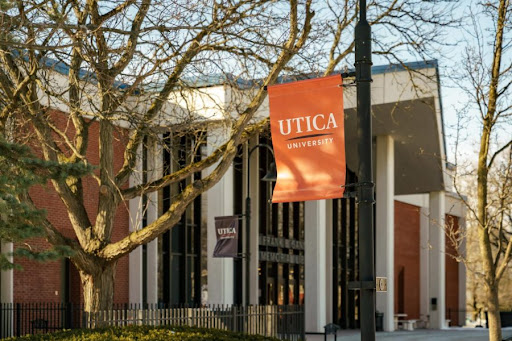 Did you know that Utica University's original mascot was an actual Pioneer, a man dressed in a racoon-skin hat holding a rifle? Or that the Sports Dome is one of the largest athletic domes in North America? Utica University is filled with a unique history. Here are some facts that may surprise you.
Oneida Square campus
When Utica University, originally Utica College, first opened, its campus was located in the basement of Plymouth Church at Oneida Square in Downtown Utica. The institution was established as an extension of Syracuse University which students attended for two years before being required to complete their junior and senior year at Syracuse University. The campus moved to Burrstone Road in 1961 then gained independence from Syracuse University in 1946. 
The Pioneer mascot
Trax the Pioneer Moose became Utica's mascot in the fall of 2003. Prior to that, the mascot was a Daniel Boone like figure. The Pioneer remained Utica's mascot for 51 years until the institution deemed it racially offensive and politically incorrect due to Native American stereotypes. "Trax the Pioneer Moose" became the new mascot because moose were indigenous to the area, particularly northern New York.
The Yearbook
In 1950, students decided they wanted their own yearbook and put it together in a short time. It was published annually until 2017, changing names over the years according to retired Utica University Reference Librarian Anne Flynn. At the time it was common for colleges to have yearbooks and students decided they would be no exception. They even established a campus office for a period. 
The Pioneer Pub
In the 1960s when the drinking age in New York was 18, there was a bar located on campus called The Pioneer Pub in Strebel Student Center. A 1968 Tangerine letter to the editor praised the institution for strengthening unity among commuter and residential students."With beer running at the tremendous cost of 20 cents, commuters and dormies can finally get together and have a good drink while promoting school spirit," the letter stated. The pub was replaced by a pizza parlor called "Itza Pizza" in 1985 when the legal drinking age was raised to 21.
Henry DiSpirito
Many of the sculptures that can be seen around campus are the work of Utica's longtime artist-in-residence Henry DiSpirito. DiSpirito was a stonemason who came from Italy. Being an artist-in-residence, he served as a sculptor on Utica's campus from 1963 to 1995. Utica's permanent collection of his works includes sculptures such as "The Athlete" located in front of the Athletic Center and "The Unfinished Tiger" on the lawn of DePerno Hall.
The Divine Nine
Members of the National Pan-Hellenic Council, known as the Divine Nine, have been a rich part of Utica's history. Executive Director for Diversity, Equity, and Inclusion Coordinator for Community Relations Mark Kovacs described the Divine Nine as historically Black (and Brown) fraternities and sororities representing the collective purposes of scholarship, service and the power of community as a catalyst for change. 
"Between athletics, many major-related or social clubs, organizations or Greeks, etc, we know that being involved or engaged with the University community makes a difference," Kovacs said. "Having the sense of belongingness can keep you engaged, and help with your persistence to graduation."
Women's Resource Center
The K. Della Ferguson Women's Resource Center (WRC) is a long-standing organization located in the Francis A. Wilcox Intercultural and Student Organization Center on campus. It is runned by trained student advocates and volunteers focused on developing resources and programs surrounding issues of reproductive justice, sexual health, gender equity, empowerment, racial justice, cultural celebration, current events and domestic and sexual violence.They hold annual events such as Guess Who's Coming to Dinner and the Women's Herstory Month Luncheon.
Squirrel Day
The annual celebration referred to as Squirrel Day has taken place on campus since 2015. The tradition started after a portion of the Burrstone campus experienced a power outage disrupting everything from classes to food service.The power outage was caused by a squirrel, dubbed "Sparky," who chewed through electrical wires. Students then began referring to the anniversary of the event as 'Squirrel Day' to honor the deceased squirrel. 
Teddy Bear Toss
The New York Sash Teddy Bear Toss is an annual event hosted by the men's hockey team in which fans bring stuffed animals that are thrown on the ice after the Pioneers score their first goal of the game. Players then skate out to collect the stuffed animals for donations. Thousands of stuffed animals are distributed to local charities. The event is typically held during December at the Utica Memorial Auditorium.
The 'Dome'
The Todd and Jen Hutton Sports and Recreation Center is the second largest facility of its kind in North America. It stands 270 feet wide, 500 feet long and 82 feet high. Construction on the sports complex was completed in 2015. It features an eight-lane, 200-meter NCAA competition indoor track, four multi-sport courts, a multi-sport artificial turf practice field, weight area, locker rooms, equipment checkout area and a concession stand.