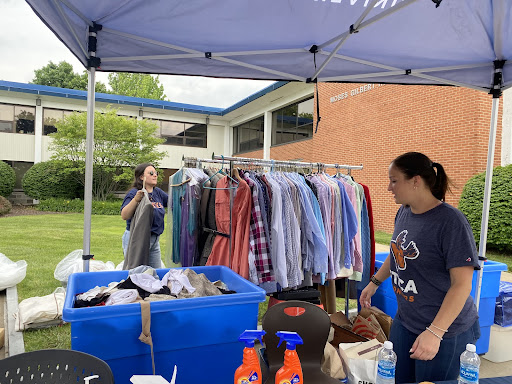 Utica University's Center for Career Readiness held a clothing drive on July 12. More than 1,000 articles of clothing were added to the Career Closet as a result of generous donations.
A total of 91 cars stopping by the Addison Miller White Hall Circle to drop off clothing. The Center for Career Readiness received donations for students then got to work organizing the clothing after the event.
"The Career Closet was a way for us to address inequity on our campus," said Nina Nguyen, Utica University's Diversity, Equity, and Inclusion project manager.
As a division of Utica University's DEI Office, the Center for Career and Professional Development aims to provide equal opportunity for all students to receive employment and strives to prepare students for successful careers by helping them to achieve their full potential.
"We realize not every student came to the University with what they'd consider 'professional' clothing or have the funds to purchase new items, which can get expensive," Associate Director of Transitions Jennifer Rubino said. "We never want our students to miss out on an opportunity to network, go to an interview or start their first day of the job or internship because they aren't confident in how they dress."
The Career Closet debuted in October 2022 to provide students with professional work attire for job interviews and prevent a lack of clothing as a barrier to why someone can't receive employment. Since opening, Utica University students have utilized the Career Closet as a way to prepare for job interviews.
"It's rewarding to know we're making an impact," Director of the Center for Career and Professional Development Kailea Murray said.
The summer clothing drive is just one example of the ways the Career Closet is expanding its clothing selection through donations. Some local businesses have also volunteered to gather donations. 
"We are grateful to our campus and community partners who have helped make these items accessible to our students, completely free of charge," Rubino said.
In addition to the clothing drive, the Career Center is anticipating another large donation from Excellus Blue Cross Blue Shield of the Utica region. The insurance company selected the Career Closet and the donation is expected to be dropped off at Utica University this week.
With an increase in the number of clothing articles donated, the Career Closet will relocate to a larger space. The closet required a small space when it first opened and has been moved to several different locations due to its rapid growth. As a result, they have paused on accepting donations to focus more on organizing and relocating the Career Closet. Work attire is still available on a case-by-case basis to students preparing for an interview. 
Any students who are interested in picking up clothing from the Career Closet may do so by contacting The Center for Career Readiness ahead of time. The Career Closet's new location should be determined by the end of the semester.