Daily Health Screenings Replaced With Wordle Game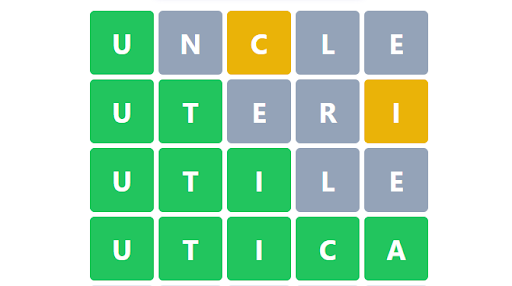 Utica University has announced that the viral sensation game known as Wordle will replace the daily health screenings for the remainder of the semester, despite student, faculty and staff backlash.
According to an email sent out by President Bryonna Brownie, the school really doesn't care if people gain access to the buildings on campus, as long as they continue to pay their tuition bills on time.
"After discussing the newly put in place health screening in a room full of mirrors, me, myself, and I have decided that the Wordle game is the best possible solution for students and staff to gain access to campus," Brownie said. "There are bigger things to worry about than getting on campus… and that is actually paying your tuition bills when you're supposed to. If the students, faculty or staff can't get the word correct, maybe it's a sign that they shouldn't be on campus."
The Clemenlime conducted a survey to see how students, faculty and staff felt about the new Wordle health screening. To our surprise, over 4,500 responses came flooding in almost like everyone at Utica University actually knew that we have a school newspaper.
In the poll that every member of the Utica University community responded to, just over 99.8% said that this was not a good idea. However, some still think it's a good idea.
Eddie Rainden, a computer science major at Utica University, was one of the few who responded "yes" that was willing to talk with The Clemenlime without requesting anonymity. Rainden said this is the best case scenario for anyone who knows anything about something.
"I have never wanted to come to campus until they made Wordle the health screening," Rainden said. "I've had COVID for two weeks now, but I can be maskless and spread it across campus just because I know how to hack the system. I've gotten the word right on the first try every time, mainly because all the answers are on Quizlet."
Despite only a very small number of people actually thinking this was a good idea, some students are livid because of the newly implemented screening.
Montgomery Hicks, who is a five-time All-American and star athlete of Utica University's nine-time NCAA Championship Underwater Stock Car Racing team, said that his grades have started to tank faster than someone who is really fast who is on Coca Coke.
"I am literally the best athlete this school has ever seen and I'm about to be academically ineligible because of a stupid game," Hicks said. "I MISSED MY MIDTERM IN IDYLLIC MYTHOLOGY BECAUSE I COULDN'T GUESS 'NYMPH.' WHY WOULD THEY PICK A WORD WITH NO VOWELS? WHAT EVEN IS A NYMPH?"
Professor Harmonia Thebes, a member of the staffulty who teaches Idyllic Mythology at Utica University said that she thinks the Wordle game can be spiritual for some, but corporeal to others.
"Sometimes, the power of the mind is something so powerful, that it can be powerful when power needs to be full," Thebes said." Wordle health screenings are something that can bring the ow to the power, and the power to the spirit of the mind. In other words, I don't care what they do as long as Brownie stops telling me to go on sabbatical because of the power of the sun in the palm of my hand."
After talking to just three people about the new Wordle health screening on campus, The Clemenlime believes that Toto agrees with your feeling that we're not in Kansas anymore.
For more information regarding this news, check out our website at www.IAmSurprisedThatYouActuallyReadthroughThisEntireArticleAllTheWayThrough.com
This story is 100% not real and was published as a part of The Clemenlime on April 1.