Students Who Say "UC" Instead Of "UU" Will Be Suspended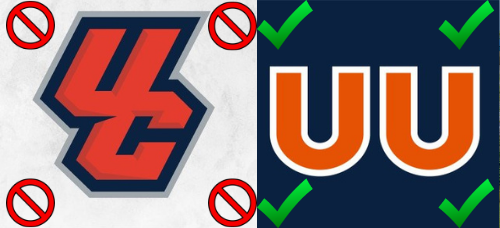 Students at Utica University who say "UC" instead of "UU" will be suspended immediately, according to high ranking officials at the UU.
After ditching Utica College midway through the semester, Utica University is doing everything they can to make it look like Utica College (UC) never existed.
This includes having sales at the bookstore on all UC merchandise, removing all mousepads, technology equipment and any other inanimate object that says "Utica College," banning all UU ice hockey fans from the Aud who chant during games and even cutting holes in all sports jerseys that say "UC" on them.
According to senior Tommy Hoffmen, who claims to be the greatest ice hockey player in UU history, said he was suspended from the team, kicked out of the Pioneer Hall of Fame and banned from the Aud because he misspoke.
"Some little child asked for my autograph during the third period at my most recent game and I told them it was an honor playing for 'UC' during my prime, which is right now" Hoffmen said. "Next thing I know, Campus Safety ran onto the ice, and began dragging me out of the Aud while wearing uniforms and hats that say Utica College. I have never been so confused in my life."
Utica University Vice President Willie Williamson was caught saying "UC," instead of "UU," but will not be suspended because he donated money for the new parking lot that should be placed in the open area between the new track and parking lot A.
"Although we don't want to create traditions by forcing people to say 'UU,' we actually do," Williamson said. "'UU,' the 'Dirty U,' 'Utica,' whatever you want to call us is acceptable, as long as you don't call us 'UC' ever again."
In order to prevent a campus suspension, Williamson donated more money to the UU, this time, to hire people to remove whatever junk is in parking lot A that is preventing students from having an extra area to park.
From now on, Utica College is now the UU whether people like it or not. This change has come with difficult repercussions, as the majority of students have been suspended because they don't want to go to their 6:30 p.m. Wednesday night classes.
"With that being said, LET'S GO UU," said every student who doesn't want to be suspended. "UU MOOSE. UU PIONEERS. U NAME IT, WE ARE HERE FOR U UU."
This story is 100% not real and was published as a part of The Clemenlime on April 1.