Halloween Story Swap around the Wilcox Center fire pit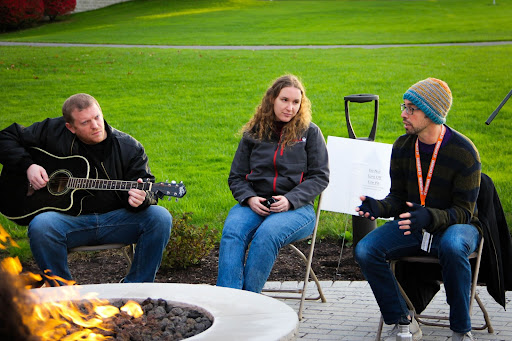 Gathered around the Wilcox Center fire pit Wednesday night, Utica College students and faculty came together to share scary stories in the brisk autumn weather. 
The event was created by Dr. Ariel Gratch, an assistant professor of communication arts at Utica College, as a way to help bring members of the campus community together. People told their favorite scary and spooky stories, both real and fake, with others in attendance as the sun set in the evening. 
Several students and faculty were in attendance sharing their own stories or just simply listening to others and enjoying the nice weather together. There was also music to accompany some stories, with each one being a little different. People shared everything from serious personal stories, to scary stories they liked online and someone even sang The Hearse Song.
 "I liked the event," said senior student Thomas Caputo. "It was cool to see such a huge variety of stories being told, everyone had something a little different."
Caputo shared a story that he liked from Creepypasta with the group as well, and said it was fun sharing with people who enjoy listening to what you are talking about. 
Freshman Kevin Chambers also liked the event overall and said it was enjoyable getting to listen to others share stories that were both real and fake. There were no limits to the types of stories that could be told, so everyone had something unique to share. 
"I heard about the event from my teacher Dr. Gratch, but had seen the flyer a week before and was interested," Chambers said. "If there was something like it again this year or next year, I would be interested in coming back."
The inspiration behind the event came from the National Storytelling Network, which Gratch used to participate in, when he taught at Georgia College and State University. The organization hosts a worldwide storytelling event once a year called TELLABRATION™, which is "a night of storytelling celebrated worldwide on or about the third Saturday in November," according to the NSN website.
"I thought about hosting an event in November on an actual day, but it will be too cold then to host something outside," Gratch said. "Also as it is right around Halloween, people could share stories with a theme."
The original idea was to host a storytelling contest but Gratch thought that instead, a swap would be more enjoyable for people. He explained that a swap would be less stressful and people would want to share more stories, large and small, because no one is trying to do better than someone else. 
"It has been in the works for a while," Gratch said. "We are hoping to do more events like this as it is a great way to get folks out and spending time together."
More events similar to this are in the works with another possibly happening closer to Christmas time. The hope is that people will share the event with their friends and it will slowly grow over time into something bigger, Gratch said. 
"Telling stories is the most effective way to share your ideas with others," Gratch said.