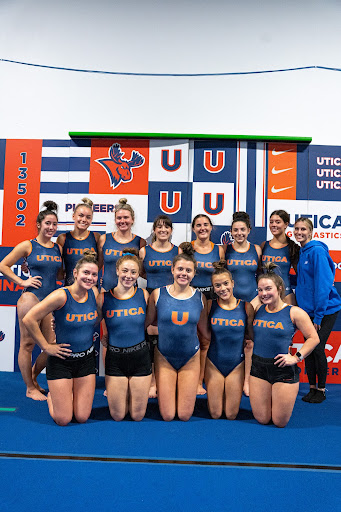 Utica University's women's gymnastics team will have its first meet during the upcoming 2024 winter season. The team has been preparing for competition since the institution announced the addition of women's gymnastics to its athletic offerings last fall.
Over the past year, 17 athletes from across the country have joined the team and have been training at Valley Gymnastics near the Utica campus in preparation to compete this winter.
"I've watched them practice and work out a bit, admittedly I don't know a lot about gymnastics, but I certainly know an athlete when I see one and they are tremendous athletes," said Utica University's Athletic Director Dave Fontaine.
In collegiate gymnastics, schools sometimes compete together at the same meets. However, for this group, their first meet the team will compete against teams such as Oregon State and Southern Connecticut in a televised Division I meet on Jan. 13 at Rutgers University which will be broadcast on ESPN. 
"I think we're going to be ready for it," said graduate student Jensen Todd. "We're going to be prepared and kind of show D1 that D3 still matters, D3 is still relevant and it's still growing, so I think that's important." 
Alumnus Danielle Cerminario leads the team as head coach following her appointment last October. She also has owned and operated Valley Gymnastics, a class that teaches girls and boys of all ages and coaches gymnastics at  New Hartford High School.
With over four decades of experience, Cerminaro is well-known in gymnastics and recruited first-year and transfer student-athletes to join Utica's gymnastics team.
Todd, a New Hartford graduate who was coached by Cerminaro while at Valley Gymnastics, is one of the students she recruited. When Utica's gymnastics team was announced, she came out of retirement and became the first gymnast to commit to the team.
"I couldn't let myself stop doing the sport that I loved for so long, knowing that I still had one more chance to do it," Todd said.
Freshman Grace Marra, a Long Island native, has been involved with gymnastics since she was 3 years old and has said she always dreamed about doing college gymnastics. But when the college recruiting process became difficult for her she suffered an injury at a state meet during her senior year of high school. 
But after the injury, Marra decided to commit to Utica after Cerminaro saw her potential and assured her that her gymnastics career was not over. From there Marra said she knew at that moment she would be happy here
"I think we all support each other through everything and I feel like we're a family," Marra said. "I can call these girls like my sisters."
The season gets underway in a home meet against Rhode Island College on Feb. 3 in the Clark Athletic Center Gymnasium. The community is welcome to attend and show support for the Utica women's gymnastics team for the first time.