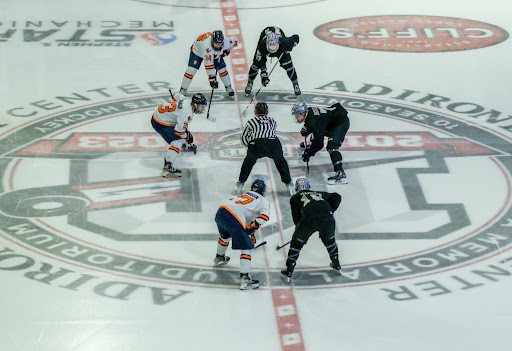 October looming means one thing: the Utica University men's hockey team will be hitting the ice again soon at the Utica Auditorium. This year brings some unfamiliar faces. With 10 new additions a new beginning will embody this men's hockey team this season.
After key players graduated, such as captain Dante Zapata and Justin Allen, a load of players from the Ontario Junior Hockey League (OJHL) and the North American Hockey League (NAHL) joined the program this season. 
Both leagues are known for developing players of high skills. Many players from the NAHL spent time in its south division, known for its tough nail games. There's no hiding that in the NAHL south there's a good chance you'll find yourself dropping the mitts at some point — just how head coach Gary Heenan wants his guys to play.
Utica will be missing some key players in standout defensemen Jayson Dobay and fellow blue liner Joey Berkopec who did not return to Utica. Both abandoned their senior seasons and signed contracts in the East Coast League.
Losing Dobay hurts a lot. A smooth skater, the defenseman hit a career-high 37 points last season (5 goals and 32 assists) in just 27 games and was set to be a key player for the Pioneers this season. 
His absence along with Berkopec will be felt, but with a roster of guys that are a couple of seasons in, ready to take over the group has a different style than we've seen from Hennan's skaters before meaning —they skate —compared to the hard nose power forward style that was less about the skating, more about hard on the puck, heavy on shots, and strong around the net, just out muscle the other team. 
The game has changed. It favors creativity, speed with the puck, and puck possession. Though it's hard to judge incoming freshmen, two additions that stick out the most are Dante Spagnuolo and Ethan Roberts. 
Spagnuolo, a fifth-year player, played two seasons at Adrian College where he won a national championship in 2022. Roberts, a goaltender, joined the Pioneers after one season with the University of St. Thomas (Division 1). Guys like Shane Murphy, Josh Kagan, Jake Berault, Chris Caroll, John Gutt, and Krostian Acosta are all fluid skaters who should take off this season and carry the new style to the Pioneers. 
The schedule also sees an uptick with newer competition. On Oct. 20 the Pioneers will kick start the season at home in an exhibition against the United States Under-18 development team. Next, they host the Adrian Bulldogs twice in a two-game series.
Pioneers will face Oswego State, Elmira, and St. John's University for the Delta by Marriott Thanksgiving Tournament, followed by the annual New York Sash Teddy Bear Toss at home. This year they face a newly appointed Division 1 team in Stonehill College. A trip to Oswego comes next where they face the Lakers again on Dec. 9 
While there's a lot to look forward to, there's a lot to improve. The team has underperformed in the last two years after falling short in the NCAA first round two years in a row against the same opponent. Expectations may be lower now, but this team does have the caliber to climb over the hump. 
With SUNY Brockport and Geneseo joining the United Collegiate Hockey Conference (UCHC) in 2024, Division 3 hockey this year is pivotal for Utica. They need to make a statement in these out-of-conference games by being a different team on the ice. With a chip on their shoulder expect some noise to be made with the team this season.