MAKING A COMEBACK: Kelsey Carter returns to the court after gruesome leg injury
A knee injury kept Kelsey Carter out for nearly a year which put a halt to her college basketball career. Carter never stopped fighting to get back on the court until the forward/ center finally made her highly anticipated return this season for the Pioneers. 
Standing at 6-feet tall, junior Kelsey Carter created a big presence on the court and is well known for her defense on the women's basketball team. The Jan. 14, 2022 game at St. John Fisher University, a team ranked 25th in the country at that time, created a huge challenge for the team, but the biggest battle for Carter would come later on as the game went on. 
As one of her teammates was set in a defensive position to take charge from the far end in the fourth quarter. Carter found herself in a great help position, but as her teammate took the charge she fell landing on Carter's foot. 
Due to the backward momentum, she buckled Carter's knee and her back landed directly in her shin. Carter's motion sprung her forward immediately, snapping her leg by the knee in front of the Fisher bench. 
 "It felt like someone had taken from my knee down off my body," Carter said. "Then tried to screw it back on but they screwed it back on the wrong way. It felt crooked." 
Three days later the school's orthopedic surgeon diagnosed Carter with a tibial plateau fracture and a torn meniscus. Carter described it simply as "breaking her knee." The injury was not a typical sports injury. It is trauma related common in high-impact sports or car accidents, so the doctors in Utica couldn't treat her injuries. 
Carter went to a trauma center in Philadelphia where she met with another orthopedic surgeon to have surgery on her knee. After the five hour surgery, Carter was left with a metal plate in her knee and eight or more screws along with a stitched meniscus. 
Carter's race to recovery began shortly after her surgery on Jan. 28. In the early phases the doctors told her not to put too much weight on her knee as she would not be able to for up to three months. After staying home for just two weeks she returned to Utica to be with her teammates and start the recovery process. Carter had physical therapy three times a week after the injury along with a lot of stretching and scraping but the most enjoyable activity for her was riding a stationary bike.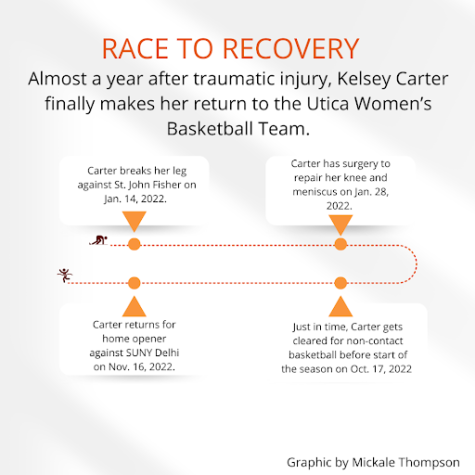 Carter had another x-ray done on her leg to check up on the injury. Sitting in the library one day she got a call from the doctors. According to the doctors, the results looked good and due to her patience she was now able to walk and start weight bearing. Happy and nervous at the same time Carter sets up her phone to record herself. She then took her first step after two months and one week contrary to the three month time frame.
"I could not stop crying," Carter said. "Knowing that what I work for and what I was patient for so long paid off and me being able to walk early made me feel a sense of normalcy in my life." 
The women's basketball team has a family atmosphere and while being sidelined and away from the action the team caring for Carter became more than just driving her places and getting her food. It was more about keeping her included and connected to the team by supporting her until she was able to come back. 
"It was incredibly important for our team to stick by Kelsey's side during her recovery," guard Julia Rotando said. "Kelsey has been there for every single one of us when we were down. So being there for her came very easy to all of us. Our team is very much like a family, so sticking together when things get tough is something we have all always done."
Coming out of Seneca High School Carter was a dominant force to reckon with as the Shamong, New Jersey native racked up some highly impressive figures in her high school career.
 She finished her high school career with 142 two-pointers, 102 free throws, 400 points, 315 rebounds, 33 assists, 38 blocks and 28 steals in 83 games for the Golden Eagles. 
Carter's size, personality, maturity and intensity as a high school player along with her dominant stat line caught the attention of Utica's Head Women's Basketball  coach Michelle Davis. Davis loved the way Carter spoke to her teammates. 
"She was very vocal and would get very big and long in the paint and always was directing people on where to go, you like those coach-type people on the court," Davis said. "It's helpful. She would go after rebounds and was fairly smooth for a high school player and when she would get the ball she would make a decision."
The attributes and strengths that Carter possesses as a player on and off the court allowed her to create a special relationship with her team. Despite being "stubborn" and "bully-headed" at times, coach Davis said her desire and focus helped her get through the recovery process a lot quicker. 
"She wants results and she wants answers whether it's in the classroom, on the court, or with her teammates," Davis said. "It just goes back to that leadership and that determination." 
Carter was cleared to train and play non-contact basketball away from the team on Oct. 17. In practice, Davis would gently hit her with pads as the two practiced post moves. During the rehabilitation process, the coaching staff with the given information anticipated a January 2023 return. 
With certain barometers and tests that needed to be done, Carter met with her physical therapist and passed those tests after the opening game of the season against Rensselaer Polytechnic Institute on Nov. 9. Carter had to wait another week before making her season debut in the home opener against SUNY Delhi on Nov. 16. 
Carter texted coach Davis on the Wednesday before the game that she had gotten the all clear to fully return to the team. At that time the trainers restricted Carter to just five minutes of playing time before the game but while watching her play in practice to their surprise she looked in better shape than they thought. 
"For her injury it's more mental than anything," strength and conditioning coach Nathan Fredsell said."Getting back on the court and having the confidence in what the surgeons did and what the doctors did and what work she put in. Just building that confidence back up and having the ability actually to go up for a lay up and trust that it's going to hold up." 
Carter's size and versatility makes her a valuable player on both ends of the court for the team. Despite the injury taking up a huge chunk of her career and playing time, coach Davis still believes she can become that. 
"She's playing right now and hopefully we're okay," Davis said. "The nice thing is she's going to have two years (this year and next year). I hope that she continues evolving and improving her game. I saw her as the kid that was gonna go out and she's going to be a starter for us and average a double-double and I still think that's things that she can do." 
COVID halted one entire season of basketball for Carter and her leg injury kept her out for a large portion of her sophomore year. Having her back on the court earlier than expected brought great joy to the team. After all the hardships stepping on the court for the home opener was a rewarding moment for her and a huge confidence booster as she finished with six points. 
"I just want to be happy and have a good time," Carter said. "Stats aren't my thing team over me."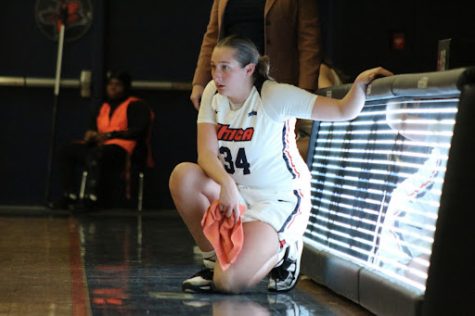 Carter coming back in 10 months was nothing short of incredible, Davis said. It was a testament to her hard work and never quit mentality but from a coach's perspective Carter returning to her old self will be the biggest expectation this season.
"I would love to see her smiling and happy on the court," Davis said. "She is like a kid out there right now. She gets to do it again when it was all taken away."