Take Back the Night at Utica University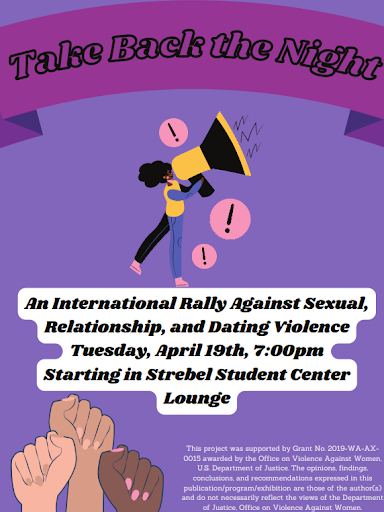 Utica University's Safe Trax program will host the annual Take Back the Night, a worldwide effort to combat sexual violence. The purpose is to increase education on the prevention and available services for victims of sexual assault, domestic violence, dating violence and stalking.
According to Safe Trax Program Director Jennifer Jones, as well as Advocate and Safe Trax Prevention Educator Ann Locke, one-in-three women worldwide experience some form of sexual violence or intimate partner violence in their lifetime. Additionally, one-in-six men will experience sexual violence and two-in-three transgender people will experience sexual violence.
All students, faculty and staff are welcome to come together on Friday, April 22 at 7:15 p.m. in a speak-out and march to show solidarity between sexual assault survivors and their supporters and proclaim their right to safety. April is known as Sexual Assault Awareness Month and Take Back the Night allows victims to have the space to speak out and use their power. The speak-out and march will start in the Strebel Student Center Lounge with one large group that will march together.
Participants will obtain candles, chant cards and sign the banner and get refreshments before following the course around campus. Walkers will then have the opportunity to participate in a proclamation and speak out at the podium set up between Thurston and DePerno. With the support of those around, walkers will chant phrases of survivorship.
Messages of support and statistics will be posted along the route of the march and will be highlighted by march leaders, according to the organizers.  
TRiO Retention and Tutoring Coordinator Jasper Wojtach, explains how not only survivors of sexual assault can participate, but as well as those who are willing to show support and use their voice as a tool for raising awareness. 
"Take Back the Night is open to anyone who cares about the issues of sexual and domestic violence to participate and lend their voice," Wojtach said.
This project was supported by Grant No. 2019-WA-AX-0015 awarded by the Office on Violence Against Women, U.S. Department of Justice. The opinions, findings, conclusions, and recommendations expressed in this publication/program/exhibition are those of the author(s) and do not necessarily reflect the views of the Department of Justice, Office on Violence Against Women.
Both Jones and Locke encourage students and the campus community to attend and show their support.
For more information visit the event's PioHub page. To learn more about the international event Take Back the Night visit the official website.