Fuerza Latina prepares for annual talent show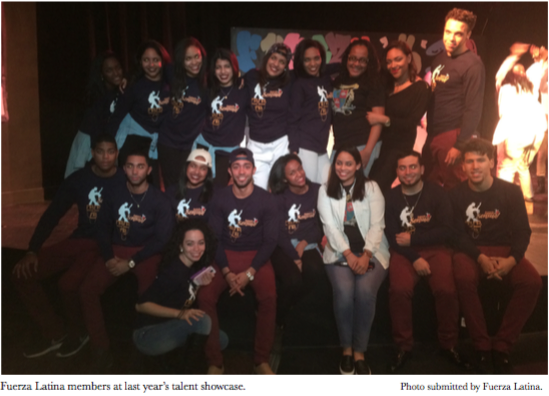 Michael Muon
Staff Writer
Fuerza Latina is hosting its annual talent show on Nov. 14. The talent show begins at 6 p.m. and doors will open at 5 p.m., and tickets cost $5 for Utica College students and $7 for the general public.
Fuerza Latina will be hosting its rst ever Electric Daisy Carnival themed talent show. There will be all types of performances, from ballet dancers, singers, Latin dancers, a step team and much more.
According to Vice President Yamilette Baez, Fuerza Latina is expecting a wide range of people in the audience. Along with our UC student body, we have students coming in from SUNY New Paltz, SUNY Oswego, SUNY Albany and New York City that will also be performing for the campus community.
Baez said this year her organization chose EDC as the theme because they want students to feel almost as if they are at a club. Those who attend can expect to hear a lot of Jersey mixes and a lot of techno remix.
Senior Mary Ellen Fitzgerald-Bord will be performing this year. Fitzgerald-Bord has never been to any of the annual talent shows because she is always so busy and she does not know what to expect this year. Fitzgerald-Bord does know in fact that she will be singing "Hello" by Adele and accompanying her on guitar will be her resident Fredo.
"I expect that the other performers will bring it," Fitzgerald-Bord said. "Like, the people all have been chosen by the Fuerza Latina e-board, and they're the best of the best! So it should be so exciting to see all of that talent."
Junior Gerard Serrano says he is expecting to see lots of different talent that he has never seen before. Serrano wants to see the student body come out of their shell and allow the campus to see the talents hidden within UC.
Serrano expects all performers to smile and enjoy themselves on stage.
It truly is inspiring to see individuals step out of their comfort zone. The audience can expect to see Serrano there because he is a part of the brothers of Phi Beta Sigma Fraternity Inc.
"We have something up our sleeves," Serrano said. "Therefore, I won't reveal too much but will say we plan to help facilities lighten up the maintenance in this performance. Literally, be on the lookout!"