Turn up the Heat: ChickenLicious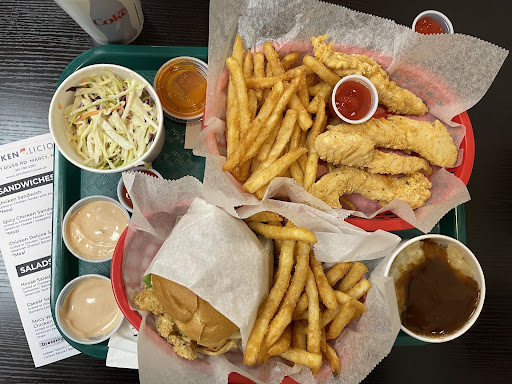 Hungry for a chicken sandwich, on the first snowy day in November I made my way to ChickenLicious.
On a menu of wraps, sandwiches, salads and house-made side dishes, almost each item is made featuring their never-frozen, house-marinated and breaded chicken tenders. I ordered the Chicken Deluxe Sandwich with fries, a Big Box combo with a side of mashed potatoes and coleslaw, and some of their "Licious" sauce.
The meal was served quickly, full of crisp, crunch, and flavor.
A typical chicken sandwich is usually a simple chicken breast. But this sandwich consists of three crispy tenders covered in Licious sauce on a flavorful bun, unlike other boring buns that serve as a holder and often taste no better than cardboard. The coleslaw was better than average, not the kind you leave forgotten or try to enjoy just because you paid for it.
"I don't want to eat the rest of the tenders because I don't want it to be over," Marinus Nortje said after his first bite.
Yes, the sandwich was delicious. Yes, the fries were crispy. And yes, we did try them dipped in the mashed potatoes and gravy—even better.
Muhamed Dautovic owned a contracting business for several years before buying and converting this convenience store and Dunkin' Donuts into ChickenLicious, which opened Aug. 8 this year.
"I just decided to change my occupation and start something new," Dautovic said.
The community in Marcy responded better than Dautavic expected. ChickenLicious opened in an area near businesses and a community that was hoping for a restaurant and something new to taste.
"There's nobody on this road here and that's exactly what they needed, a lot of them said that," he said. "Whole neighborhoods are coming here, if not every day then every second day."
Each morning, Dautovic and his employees begin by seasoning, marinating and breading tenders, slicing cabbages and carrots for coleslaw, and preparing the rest of their ingredients. Dautovic buys everything "as fresh as possible."
"If you buy pre-cut, you don't know how long it's been sitting there," he said.
With 4.6 stars on Google reviews and repeat nightly customers, the food speaks for itself.
It's been a busy three months for Dautovic as he finds himself adjusting to running a restaurant.
"I'm talking to you and my brain is someplace else, thinking what I'm gonna order tomorrow," he said.
Dautovic has plans to open for breakfast in the near future, offering breakfast sandwiches, muffins, bagels, and Utica Coffee.
ChickenLicious is open Monday-Saturday from 11-8, and on Sunday 11-6.