Player Profile: Hayden Dawes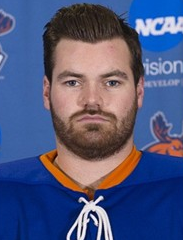 Ben Mehic, Staff Writer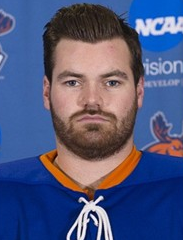 Imagine coming into a new situation, a new school and a new country. That's exactly what many of Utica College's most prominent hockey players must do. The jump from Canada to the United States could be a tough one, despite the countries being separated by a mere border.
Hayden Dawes, a freshman at Utica College, decided to take the leap from playing junior hockey in Canada to Division III hockey. While the jump may seem like a simple one, Dawes – like many of his teammates – had to make numerous sacrifices.
Dawes, who currently leads the team in points, knew that things wouldn't be easy from the get-go.
"Hockey kids come in a lot older – 20, 21 usually. The other kids come in right out of high school," he said. "So taking three years off school is tough. I didn't do anything outside of my SATs and study, so it was tough to shake off the rust."
After arriving to Utica College this past fall semester, Dawes was immediately hit with adversity as he had to sit out with an ankle injury.
"It would be tough to try and be honest and say that I saw myself being a producing guy – or even a guy in the lineup," Dawes said. "I got an ankle injury right when I got here, so all I could do is watch. Most guys coming in, you just want to be in the lineup and play without worries."
Given his background, though – Dawes' father grew up playing rugby in Australia and his mother played hockey – Dawes had the grit to fight through the early obstacles.
Once Dawes became adjusted, life at Utica College – both on and off the ice – became a lot simpler.
"We get treated really well at the Aud – we're really lucky to have that – but I played hockey in Northern Alberta where all there was is hockey too," Dawes said. "That side of it has been really similar, so it made it easy to adjust to."
Dawes knows that like most things, hockey will eventually come to an end. While he's also focused on school work, obtaining a grade point average higher than 3.0, he realizes that his dreams are not over.
"I try to take it day-by-day, but I really want to play pro hockey. Anyone who plays competitive hockey wants to reach the highest level," he said. "Going overseas just for that experience, after finishing college and having my degree under my belt would be a really cool experience to see how it is, to get a new culture and work at the same time."
Even though he's trying not to get ahead of himself, Dawes has his eyes on the playoffs, which are right around the corner.
"The biggest thing will be to get some wins in this last stretch and be ready to go for the playoffs. We'll play hard, good hockey and we'll play for each other," Dawes said.
Michael Findorff, the Utica College assistant hockey coach, is confident that Dawes will lead the team to success – both today and in the future.
"He's still a young guy that's learning the game and learning to be consistent, but you can definitely see his skill-set. He definitely has the ability to score goals," Findorff said.
Dawes, like many of the players on the hockey team, is well on his way to reaching success. It's been found on the ice and now it's just a matter of putting it all together for the final stretch. Dawes has the confidence in himself and his teammates, and thus far it's translated virtually everywhere, both on and off the ice.