Men's hockey ranked no. 1 in country, set to play Nazareth this weekend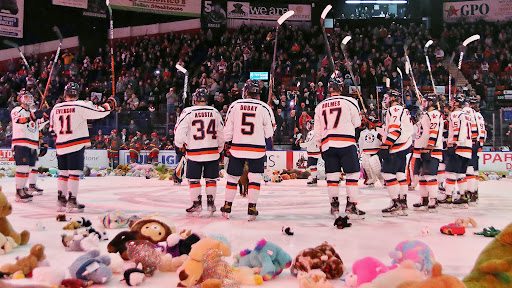 Jeremy Horowitz, Contributing Writer
Last week, the men's hockey team was on the road taking on the Dutchmen from Lebanon Valley College on what turned out to be a record setting weekend that ranked the team number 1 in the country.
The Pioneers went into the series scorching hot, coming back from the winter break going 4-0, with series sweeps over Manhattanville College and Neumann University. 
With last weekend's wins against Lebanon Valley, Utica moved to a 12-0 record in UCHC play, and a 14-2-1 record overall.
"It's truly special to be ranked number one after all of the hard work that we have put in this season. But with that being said we aren't finished yet," senior defenseman Connor Fedorek said. "We have a lot of games left where we need to take them one at a time and not look beyond the next period."
Game 1 of the Lebanon Valley series was played on Saturday, Jan. 21. The scoring would start early for the Pioneers, as at 13:57, senior Remy Parker scored. About six minutes later, team captain Dante Zapata, a senior, would add to the lead, putting Utica up 2-0 by the time the first period came to a close. 
In the second period, sophomore Matt Wood and junior Jason Dobay scored quickly as both goals came within the first six minutes. Zapata then scored the Pioneers' lone power play goal of the game. 
Up 5-0 going into the third period, senior John Monchovic scored the Pioneers final goal of the game, putting a bow on a 6-1 win. The Pioneers would get points tallied by 14 different players, with two players having multi-point games, as Zapata would finish with three and Dobay would finish with three. Senior goalie Bryan Landsberger was a standout, making 19 saves on 20 shots, continuing to be the backbone of the team.
Game 2 would wrap up the road trip weekend for Utica, coming off what was a pretty dominating win the night before. Ironically, the Pioneers scored more goals, 16 total, than the 12 points the Dallas Cowboys scored during their NFL Divisional Round playoff game against the San Francisco 49ers. 
Parker had a four goal night, and would total five points. Dobay tallied a goal and 5 assists for 6 points, which crazy enough, was not the highest point total of the night. Graduate student Regen Cavanaugh would score a hatrick, and also tally four assists, which gave him seven points by the time the final horn was blared. 
The Pioneers would go 7/9 on the power play, which is now up to 15 goals this season. The Pioneers won by a score of 16-1, which would set a new team record. Their +15 goal differential would set a new single-game record for the team, breaking the previous record which was set in 2017 in a 13-1 win over Chatham University. 
A weekend road trip that was capped off with a sweep and a new single-game record. Moving themselves to 12-0 in UCHC play and furthering the distance between them and everyone else who is chasing our Pioneers is a massive positive from this weekend, scoring 22 goals in two games is just a bonus.
Men's hockey will play this weekend taking on the Nazareth College Golden Eagles in game one on Friday Jan. 27 at the and they will travel to Rochester on Saturday, Jan. 28 for game two.
"I think that it is a huge accomplishment and a testament to our team on the work we put in up until this point," Parker said. "We don't plan on celebrating it too much, we want to play every game like we still have the ultimate goal to chase. This weekend will be exciting. The top two teams in the conference as of now and we will play our way and work as hard as we can to remain where we are."