Baseball enjoying a winning season and sets sights on Empire 8 Tournament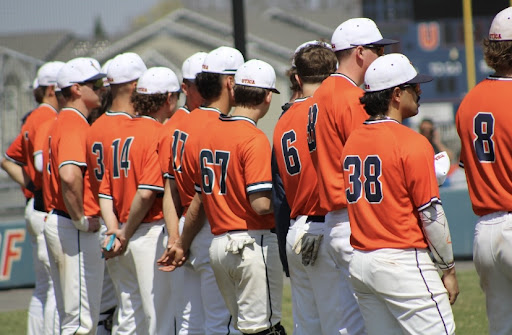 Utica University baseball is experiencing success as the regular season comes to a close in a few weeks. Utica currently sits in first place in the Empire 8 conference with a 13-2 conference record and a 22-10 overall record. They have also already clinched a spot in the 2023 Empire 8 Tournament.
The Pioneers were on a three-game winning streak after they swept Medaille University last weekend. However, the streak snapped on April 25 after a 7-6 loss against SUNY Cobleskill.
After finishing with only a 21-18 record a season ago, the Pioneers have already increased their win total with eight more games to play this season of the back of notable performances from freshman pitcher Kooper Knabe and Dylan Sullivan
The two combined for seven Empire 8 Rookie of the Week awards this season. Knabe a front runner for Empire 8 Rookie of the Year, has earned Rookie of the Week honors five times in the last 12 weeks while holding the lowest ERA in the Empire 8.
Fellow teammates junior Dom Fasolo and senior John Son were also named finalists for the Empire 8 Most Valuable Player.
Fasolo currently has a .404 batting average with three home runs and 29 RBIs in 89 at-bats.
Son currently sits at a .386 batting average with four home runs and 39 RBIs in 114 at-bats. Son has also won the Empire 8 Player of the Week once this season.
The Pioneers will face SUNY Polytechnic Institute on April 27, then head into a doubleheader against Cazenovia College on April 30.
The team resumes Empire 8 action against the St. John Fisher Cardinals. Fisher currently holds a 20-12 overall record and has been undefeated in conference play this season with a 12-0 record. The Cardinals currently sit on a six-game winning streak as the two set the face either for the first time this season.
They will match up against Utica in a three game series that starts with a doubleheader on May 6 and another game on May 7.