Swimmers fall at St. Lawrence
Nick Woodman, Staff Writer
The Utica College men and women's swimming team traveled to St. Lawrence this past weekend, but weren't able to come home with a win as both the men and the women lost.
The men's squad fell 116-95, while the women were defeated 120-61.
As soon as the Pioneers arrived in Canton, and all they saw was nothing but red and grey everywhere, they Pioneers knew they weren't in Utica anymore. However, the team was ready to compete and earn a victory.
The men's team was led by junior Chris Halsey who took first in the 1,000-yard freestyle with a time of 10:56:57. Senior Raphael Warnon was able to end the day with two first-place finishes. The Pioneers' top swimmer won the 200-yard I.M. with a time of 2:06.29 and the 100-yard backstroke with a time of 58.32. Senior Kaleb Bright finished the day coming in first place in the 100-yard butterfly with a time of 57.71.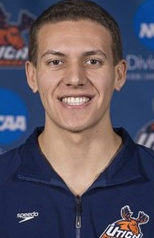 The women's team was led by the sophomore class. Alyson Baribault placed first in the 100-yard breaststroke with a time of 1:17.36. Grace Gallintine, Phoebe King and Domenica Risucci each placed second in their events. Gallintine competed in the 50-yard free, King was in the 100-yard butterfly, and Risucci was in the 100-yard breaststroke.
Although UC came away with a loss, they thought they competed better than the previous week.
"This past meet up at St. Lawrence was night and day difference than the previous meet against Naz," Bright said. "Everyone was on their feet the entire meet and cheering for each other which made a huge difference. About 90 percent of the team hit season-best times. Not only do you give credit to the overall great vibe at the meet but the hard-nosed effort put forth in the past week's practice."
The Pioneers will wrap up their season in the final meet which is also senior day at home against Clarkson University at 1 p.m. Hasley is looking forward to the upcoming meet as he believes swimming at home makes the team compete at a higher level.
"In my opinion, we perform better at our home," Hasley said. "It simply is because we are much more familiar with our pool, and it's just our home, our house."
While UC will be fired up to finish their season on a high note, it will definitely be a little bittersweet for the seniors.
"The meet this Saturday will be very bitter sweet, being my senior meet and last time I will compete in the Utica College Pool," Bright said. "As a senior it has been great to watch this program grow, and I have a great group of guys that I call my teammates.